THE SCHENECTADY DIGITAL HISTORY ARCHIVE
a service of the Schenectady County Public Library

Schenectady, New York Directory and City Register for the years 1841-2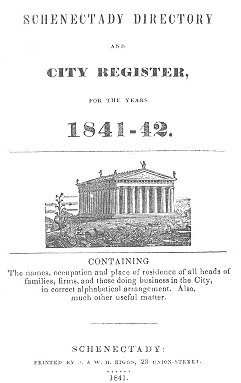 Containing the names, occupation and place of residence of all heads of families, firms, and those doing business in the City, in correct alphabetical arrangement. Also, much other useful matter.
Printed by J. & W. H. Riggs, 23 Union-Street
Quote from the beginning of the directory:
The Compiler respectfully presents the Public with the Schenectady Directory and City Register, and hopes it will meet a favorable reception and liberal patronage. He trusts our business men, and others, will find it a useful manual.
It was intended to accompany the Directory with a Lithographic Map of the City, but he has been unable to accomplish his purpose in this respect: The drawing and engraving of it requiring more time than could now be spared.
As this is the first attempt at a Directory in this City, he is aware that it will be found more or less imperfect and erroneous; but as he anticipates, even for this imperfect effort, a kind reception, it is his present intention, another year, to offer our citizens a publication that shall be more worthy of their patronage.
Updated 12/7/98




This page is Bobby approved and follows the guidelines of the Web Accessibility Initiative for use by the disabled
http://www.schenectadyhistory.org/citydirectories/1841/index.html updated March 31, 2015
Copyright 2015 Schenectady Digital History Archive — a service of the Schenectady County Public Library