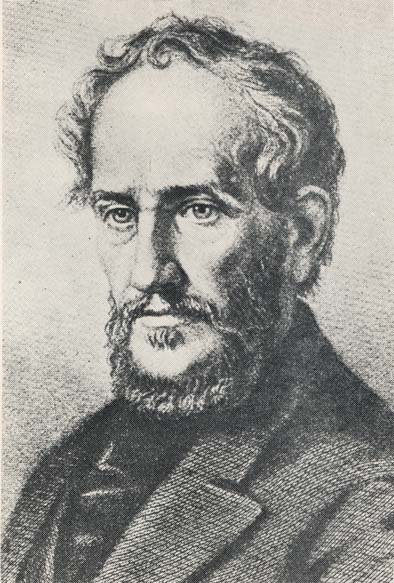 Portrait: John Howard Payne
[View 4x enlarged]
John Howard Payne, author of "Home, Sweet Home," was born in New York City on June 9, 1791.
He was something of a child prodigy for at the age of eleven he was writing theatrical criticisms which the newspapers accepted for their merit and at fourteen was editing the Thespian Mirror, an eight-page critical review of the New York theater which was widely read. Public curiosity about this remarkable boy grew so that the next year his first play, "Julia," was produced in New York.
A wealthy merchant offered to bear the expenses of a college education and in 1806 young Payne was sent to Union College to study under the great educator, Dr. Eliphalet Nott. While a student there he was active in the college societies and contributed poems and essays to neighboring newspapers. His life at Union was short, however, for two years later his father's bankruptcy and failing health made it necessary for him to leave Schenectady and assist in the support of his family. This gave him an opportunity to put his dramatic talents to use and in 1809 he made his debut as actor on the New York stage in the tragedy, "Douglas," in which he scored an instant success. His triumph was brief and the next year found him without backing and without funds.
In 1813 he sailed for England with money raised by friends to finance a year abroad. He stayed not one year but twenty, a period of fame, prosperity, and failure. He soon realized that as an actor he could never again attain the success of his earlier venture and so turned his attention to dramatic writing. During his stay in Europe he wrote, translated, or adapted for the English state more than sixty plays. He was the first American who as actor or playwright attracted attention in England.
"Home, Sweet Home," his one claim to immortality, was included in his opera, "Clari; or, The Maid of Milan," which was performed at the Covent Garden Theater in London in 1823. Many stories have been told as to how this song came to be written, but it seems to have been composed merely as a sentimental ballad during his residence in Paris. For the play he received fifty pounds, but not one penny for the song.
A disillusioned man, Payne returned to America in 1832 with passage money provided by friends. Ten years later he was appointed American consul at Tunis, Africa, where he died on April 9, 1852.