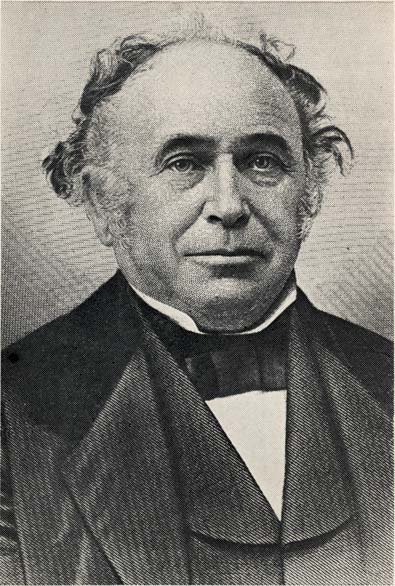 Portrait: John Ellis
[View 4x enlarged]
John Ellis, one of the leading figures in the city's industrial history, was born in Garmouth, Scotland, December 13, 1795. He was a master mechanic and in 1831 came to the United States, joined the Norris brothers when they started the locomotive manufacturing industry in this city, and was for some time mechanical director.
The little industry soon reached a crisis, however, and Mr. Ellis, seeing great possibilities for a successful business, interested local men to unite in the purchase of the plant. The Schenectady Locomotive Works was incorporated in 1851 with a capital of $130,000, and in a few years Mr. Ellis purchased the stock of his associates.
With the aid of Walter McQueen, a first class mechanic and designer with a thorough knowledge of locomotive building, Ellis now turned out locomotives, commonly called "The McQueen Engines," which became well-known on the railroads throughout the United States.
During the great panic of 1857 he conducted the financial affairs of the company successfully, and under his management the facilities of the plant so greatly increased that at the time of his death it was the largest manufacturing establishment in the city and one of the largest in the state. Had Mr. Ellis lived he would probably have corried out his great ambition of building not only the engines but the cars to go with them, making Schenectady the center of one of the greatest railway supply industries in the country.
For fifty years the Schenectady Works built locomotives for railroads in all parts of the world, and in 1901 became the principal plant of the American Locomotive Company.
John Ellis was a clear-thinking, shrewd, energetic Scotchman and by his generosity and public spirit aided many movements for the city's betterment. His strict rule of honesty and uprightness united with his great business energy and love of improvement to make him one of Schenectady's leading citizens. His death occurred in Schenectady, October 4, 1864.