This page conforms to the XHTML standard and uses style sheets. If your browser doesn't support these, you may not see the page as designed, but all the text is still accessible to you.
You are here: Home » Resources » Pearson's History » Vrooman Map of Schenectady in 1768
Go back to: Fortifications and Garrisons
[This information is from pp. 328-329 of A History of the Schenectady Patent in the Dutch and English Times; being contributions toward a history of the lower Mohawk Valley by Jonathan Pearson, A. M. and others, edited by J. W. MacMurray, A. M., U. S. A. (Albany, NY: J. Munsell's Sons, Printers, 1883). It is in the Schenectady Collection of the Schenectady County Public Library at Schdy R 974.744 P36, and copies are also available for borrowing.]
[Copies of this book are available from the Schenectady County Historical Society.]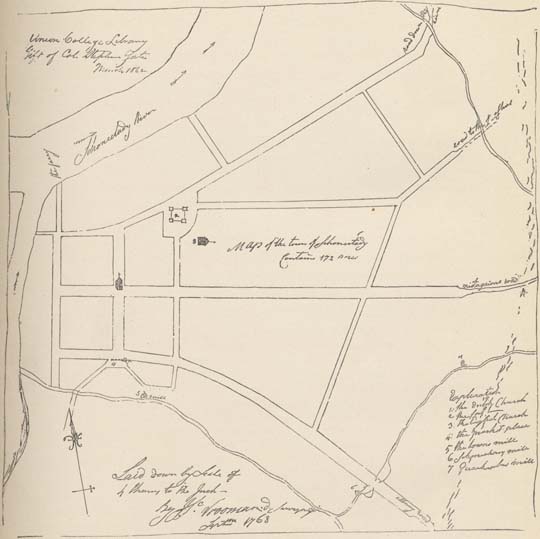 [View 4x enlarged version (108K)]
Thanks to researcher Terry Small for help with the handwriting!
Map text: Top left corner: Union College Library, Gift of Col. Stephen Yates, March 1862, with "the farry" and "Schonectady River" below that.
Center: Map of the Town of Schonectady contains 172 acres
Lower left: Laid Down by Scale of 4 Chains to the Inch by [illegible] Vrooman surveyor Septm 1768.
Right: road down the river, road to the pasture, nistagione [i.e., Niskayuna] road.
Explanation:
The Dutch Church
The fort
The English Church
The market place
The [illegible] mill
Schermerhorn [?] mill
Quackenbos [?] mill
Go to top of page | back to: Fortifications and Garrisons
You are here: Home » Resources » Pearson's History » Vrooman Map of Schenectady in 1768
http://www.schenectadyhistory.org/resources/patent/vrooman_map.html updated March 30, 2015
Copyright 2015 Schenectady Digital History Archive — a service of the Schenectady County Public Library