This page conforms to the XHTML standard and uses style sheets. If your browser doesn't support these, you may not see the page as designed, but all the text is still accessible to you.
You are here: Home » Resources » Pearson's History » Sauthier Map of Albany and Vicinity in 1779
Go back to: Old French War
[This information is from pp. 290-291 of A History of the Schenectady Patent in the Dutch and English Times; being contributions toward a history of the lower Mohawk Valley by Jonathan Pearson, A. M. and others, edited by J. W. MacMurray, A. M., U. S. A. (Albany, NY: J. Munsell's Sons, Printers, 1883). It is in the Schenectady Collection of the Schenectady County Public Library at Schdy R 974.744 P36, and copies are also available for borrowing.]
[Copies of this book are available from the Schenectady County Historical Society.]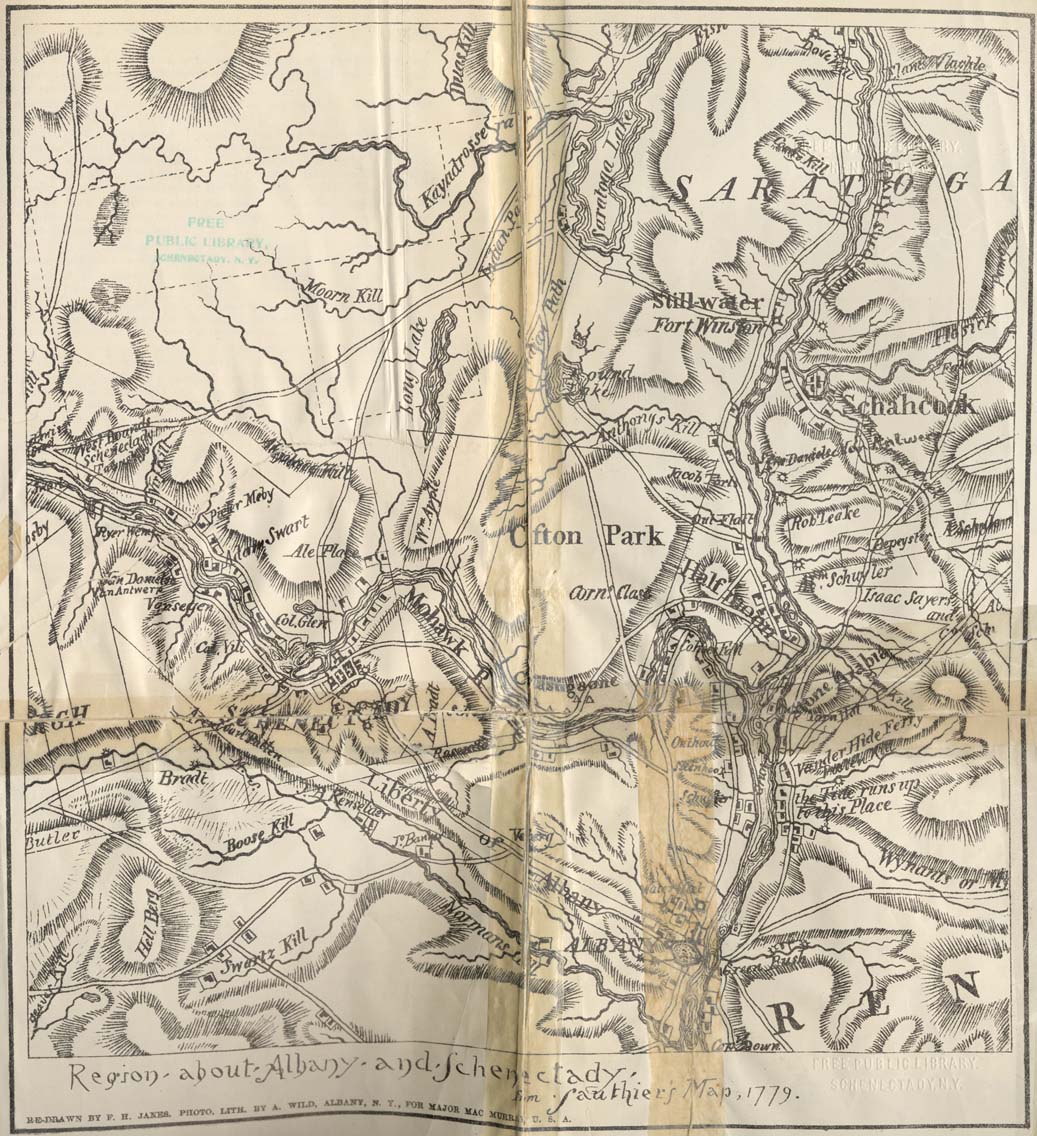 [View 4x enlarged version (744K)]
From Sauthier's map published in London in 1779, from data in colonial offices. The map was prepared for military purposes and shows minute details as to hofstedes, indicating with remarkable detail, buildings and enclosures. It may be considered as accurate enough for the period from 1730 to 1780. (Photo-engraving.)
Map text (bottom left corner): Region about Albany and Schenectady, from Sauthier's Map, 1779. Re-drawn by F. H. Janes. Photo. Lith. by A. Wild, Albany, N. Y., for Major Mac Murray, U. S. A.
Go to top of page | back to: Old French War
You are here: Home » Resources » Pearson's History » Sauthier Map of Albany and Vicinity in 1779
http://www.schenectadyhistory.org/resources/patent/sauthier_map.html updated March 30, 2015
Copyright 2015 Schenectady Digital History Archive — a service of the Schenectady County Public Library