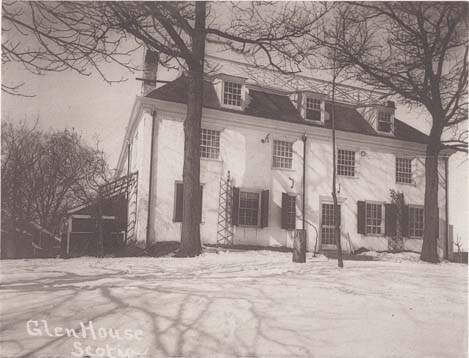 [View 4x enlarged version (114K)]
"The Sanders (old Glen) house, is situated on a pretty bluff overlooking the river and its islands, and the town, less than a mile distant, nestling amid the trees under the hills. The view is charming, as it doubtless ever has been. The building as seen in the photograph of it is large and dignified in appearance."
"A large Dutch cleft door opens into a hallway of very ample dimensions in the centre of the house; the rooms on either side, though low ceiled, are large."
"The exterior is stuccoed. The roof is surmounted by a railed-in platform, giving a view down upon the very large farm (900 acres about), which pertains to the place."
"The house is English in style, though the wing or L in rear, has the characteristic sharp Dutch gable. (It probably ante-dates the main building.)"