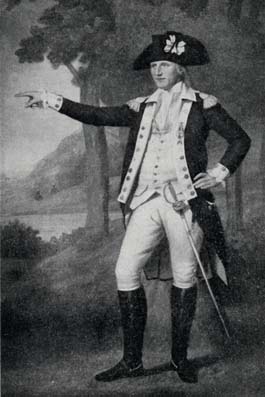 [View 9x enlarged version (258K)]
Painting: Colonel Marinus Willett.
This gallant officer and celebrated scout and Indian fighter was second in command at the siege of Fort Stanwix and commanded the sortie from the fort on the day of the battle of Oriskany, August 6th, 1777. From 1781 to 1783 inclusive Colonel Willett commanded the American Revolutionary forces in the Mohawk Valley with headquarters at Fort Plain. He was later brigadier-general, sheriff and mayor of New York City. The only defect in this picture is that Colonel Willett would never have permitted Indians to get so close to him, particularly in his rear, as those here depicted. This life-size portrait is published by permission of the Metropolitan Museum of Art, its owner.