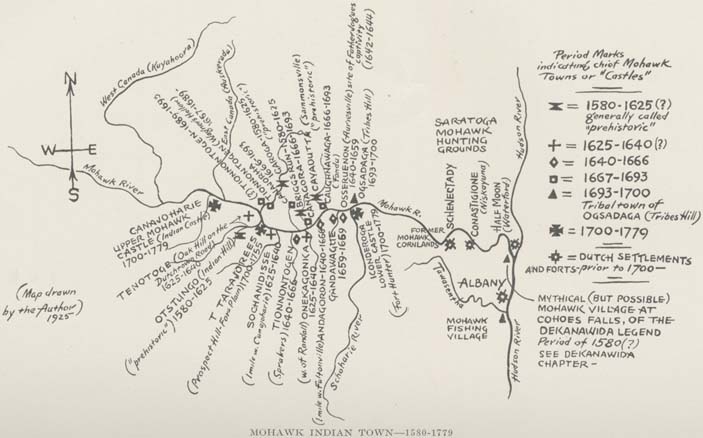 [View 4x enlarged version (99K)]
Map: Mohawk Indian Towns — 1580-1779. Map drawn by the Author 1925.
Chart Map showing location of the chief Mohawk Indian towns on or near the Mohawk River from the time of their migration from Canada and Vermont to the Valley about 1580, until the few remaining Mohawks were removed by Col. Van Schaick in 1779. The Dutch settlements and forts of Albany, Waterford, Niskayuna. and Schenectady settled prior to 1700 are here shown. Up until 1666, the dates here shown are all estimates; after that they are matters of historical record. See list of Mohawk Valley towns in Chapter 6.
Period Marks indicating chief Mohawk Towns or "Castles"
1580-1625 (?) generally called "prehistoric"
1625-1640 (?)
1640-1666
1667-1693
1693-1700, tribal town of Ogsadaga (Tribes Hill)
1700-1779
Dutch settlements and forts prior to 1700-
Rivers as indicated on the map, roughly left to right: Mohawk River, West Canada (Kuyahoora), East Canada (Auskerada), Schoharie River, Tawasentha, Hudson River.
Town and other sites as indicated on the map, roughly left to right:
Canajoharie Upper Mohawk Castle (Indian castle) 1700-1779
Tenotoge (Oak Hill on the Dutchtown Road) 1625-1640
Otstungo (Indial Hill) 1580-1625 ("prehistoric")
Tarajorees (Prospect Hill-Fort Plain) 1700-1755
Sochanidisse (1 mile west of Canajoharie) 1625-1640
(?) Tionnontogen 1689-1693
Tionnontogen 1667-1689
Garoga 1580-1625 ("prehistoric")
Briggs Run 1580-1625
Canagora 1666-1693
Tionnontogen (Sprakers) 1640-1666
Onekagonka (west of Randall) 1625-1640
Andagoron (1 mile west of Fultonville) 1640-1666
Cayadutta (Sammonsville) ("prehistoric")
Caughnawaga (Fonda) 1666-1693
Gandawague 1659-1669
Osseruenon (Auriesville, site of Father Jogues' captivity 1642-1644) 1640-1659
Ogsadaga (Tribes Hill) 1693-1700
Iconderoga Lower Castle (Fort Hunter) 1770-1779
Schenectady
Conastigione (Niskayuna)
Half Moon (Waterford)
Albany
Mohawk Fishing Village
Saratoga Mohawk
Mythical (but possible) Mohawk Village at Cohoes Falls, of the Dekanawida legend, period of 1580 (?) See Dekanawida chapter