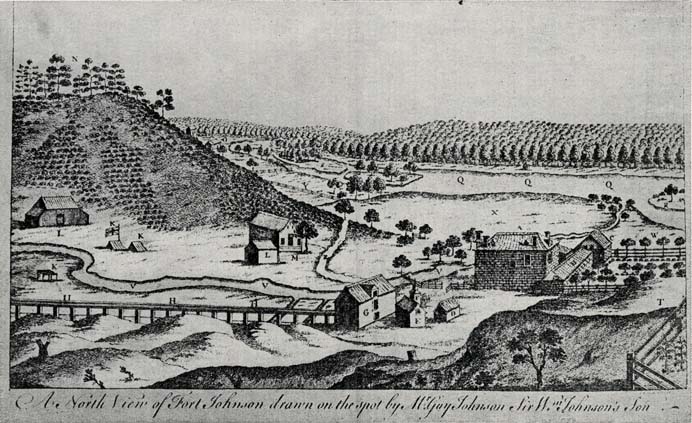 [View 4x enlarged version (404K)]
Map: A North View of Fort Johnson drawn on the spot by Major Johnson Sir Wm. Johnson's Son
(Courtesy of John Fea, Amsterdam.)
Explanation of the View
A — The house, or Fort Johnson.
B — The wall and ramparts.
C — The block-house in the corner, on the front, and barracks that flank the gate; the same on the other side.
D — Cooper's house.
E — The bake-house.
F — A pigeon-house.
G — The mill.
H — An aqueduct from the mill-dams to the mill.
I — The Indian council-house.
K — Indian encampments.
L — A sheep-house; but now there is a blockhouse built there.
M — A very large barn and stables.
N — Mount Johnson, very steep.
O — The house where Sir William Johnson lived [1739 or 1742 until 1749) before he moved (Jan., 1749-50) into A.
P — The barn for ditto.
Q — The Mohawk river.
R — Part of an island opposite to the fort, 100 acres.
S — Thirteen smaller islands belonging to Sir William Johnson.
T — Another block-house, to defend the back of the house.
V — A fine creek that runs by the fort into the river.
W — A garden.
X — Fine pastures.
Y — Corn-fields.
Z — The road to Schenectady.
[NOTE: Guy Johnson was not Sir William's son. He was his son-in-law. See next chapter for description of Fort Johnson in 1757 by the French spy of that year.]