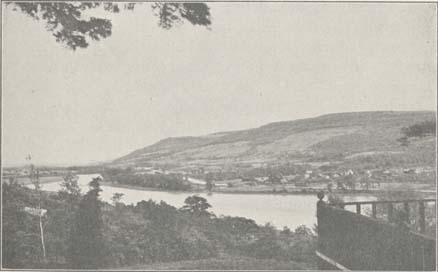 [View 9x enlarged version (86K)]
Photo: Yantapuchaberg, 1160 Feet Above Mohawk.
One of the highest Mohawk river mountains from Schenectady to Rome, with 1400 feet sea elevation. Pronunciation is Yantapooshaberg (Holland Dutch for John-ear-of-corn-mountain). Seen from Central Railroad and Turnpike. New York Central freight bridge in left hand distance and Pattersonville opposite. Photo taken from Kinquariones by C. M. Vander Veer, Amsterdam.