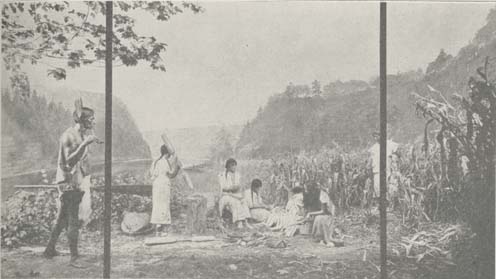 [View 4x enlarged version (76K)]
Photo: Harvest Time Among the Senecas.
This scene, posed on the banks of the Genesee River below Squakie Hill, at Mount Morris, N. Y., shows the activities of the Senecas at harvest time. The men cleared the land and attended the fields until the corn was safe from the crows, when the women hoed and harvested. The figures in these groups were cast from carefully selected types of living New York Indians and the backgrounds are historic scenes.
Iroquois Indian Exhibit — The Corn Harvest — Scene, High Banks of the Genesee River. State Museum, Educational Building, Albany, N. Y.