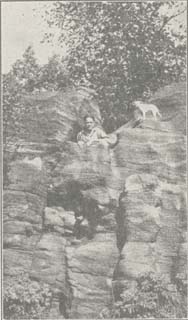 [View 9x enlarged version (90K)]
Photo: Mohawk River pothole with a man standing inside and a small dog nearby.
[View 4x enlarged version (51K)]
Photo: The river's water here covers a giant pothole, said to be 150 feet deep, which marks the site of the great glacial cataract of the great Iromohawk, which carved out the Little Falls Gorge. The inlet into the old canal of 1797 is just around the corner of the low right hand cliff, and just below the lower falls. Moss Island on the left, the Rollaway in the distance. Seen from Central Railroad and Mohawk Turnpike.