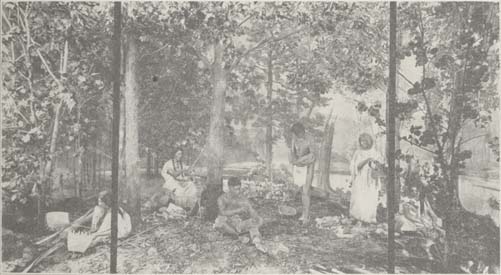 [View 4x enlarged version (96K)]
Photo: Industries of the Oneidas.
This group represents six typical activities of the Iroquois Indians, the figures in this case being Oneidas. From left to right the industries are: Basket making, weaving, flint chipping, wood carving, moccasin making, and pottery moulding. Indians were always a busy people. The background represents Nichols Pond, the site of the capital town of the Oneidas in present Madison County.
Iroquois Indian Exhibit — Iroquois Industries — Scene, Nichols Pond, near Fenner. State Museum, Education Building, Albany, N. Y.