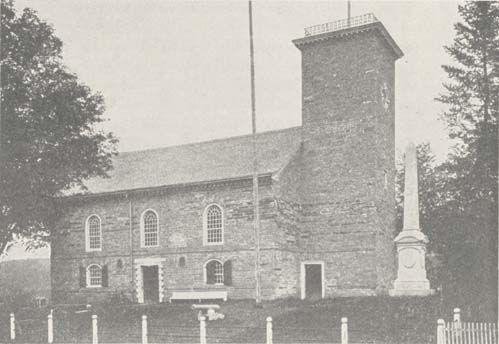 [View 4x enlarged version (98K)]
Photo: The Old Stone Fort, Schoharie.
Erected as the Schoharie Reformed Church in 1772 and stockaded and fortified in 1772, when it became the American Revolutionary army fort known as the Lower Schoharie Fort. The edifice is filled with Indian and Revolutionary relics and is the mecca of tourists passing through historic Schoharie Valley. It is visited annually by thousands. Within the bounds of the former stockade, are erected monuments to the memory of David Williams, one of the captors of Major Andre, another to perpetuate the valor of Col. Peter Vrooman who defended the Fort at the time of the invasion of the valley by Sir John Johnson, October 17, 1780, and a third recently unveiled to the memory of the soldiers, sailors and marines who went from Schoharie County and made the supreme sacrifice in the World war.