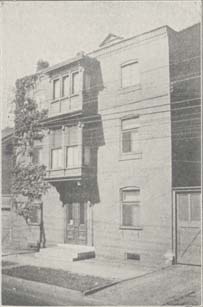 [View 9x enlarged version (84K)]
Photo: John Glen House, 1740.
This was the home of Quartermaster John Glen, No. 58 Washington Avenue. Now (1924) the Hawley house. Here Gen. Washington was entertained and lodged on his first visit to Schenectady in 1775. He occupied the bedroom on the second floor to the right in the picture. Photo by Mr. Howland S. Stedman, Schenectady, by courtesy of Mr. Hanford Robison, Schenectady.