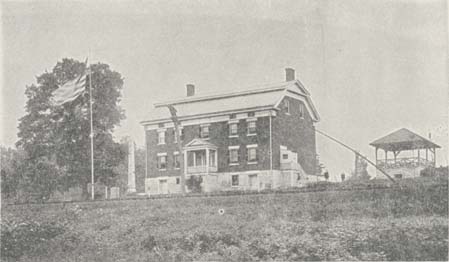 [View 4x enlarged version (67K)]
Photo: General Herkimer Home, 1764.
Front view, as seen from the New York Central Railroad and Mohawk Turnpike, on both of which it is a famous landmark. Photo shows flag, D. A. R. 1912 Oriskany march marker, monument, house, well and well sweep, summer house (built on the General's Stone powder magazine) and the West Shore R. R. directly in front of the house. Photo by William Smith, Schuyler; by courtesy of Estella Folts Callan, Ilion.