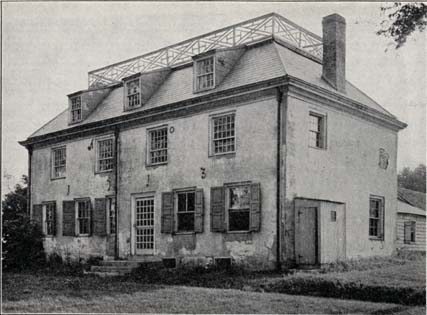 [View 9x enlarged version (269K)]
Photo: Glen-Sanders House, Scotia, 1713.
Built of stone (now stuccoed) by Capt. Johannes Glen, in 1713, largely of the materials of the first house erected by Alexander Glen, close to the river in 1658, when the Glen farm was bought of the Mohawks. The homestead had been in the possession of the Glen-Sanders family for 266 years in 1924. This is a record family occupancy for the Mohawk Valley and one of the longest in the United States. The Glen-Sanders house stands on the west side of Mohawk Avenue close to the Great Western Gateway Bridge and is a Colonial guardian of the eastern gateway of the Long House of the Mohawks which we are now about to enter, and which ends at the American Corner in Rome. See "Scotia, the Glen-Sanders House," pp. 155-186 in "More Colonial Homesteads [and Their Stories]," by Marion Harland. Photo by courtesy General Electric Company.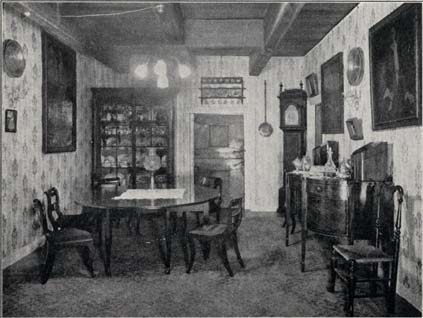 [View 9x enlarged version (274K)]
Photo: Glen-Sanders House Dining Hall.
The round dining table stood in the old Alexander Glen house of 1618. When Schenectady was burned and its people massacred in 1690, the French officers crossed the river and took breakfast on the round dining table shown in the picture. Note the double Dutch door at the back of the room. Photo by courtesy of the General Electric Company.