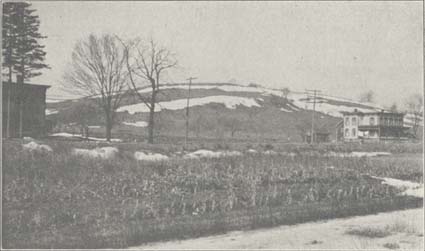 [View 4x enlarged version (54K)]
Photo: Site of Fort Plain, 1776-1783.
Fort Plain was built on the summit of this hill in 1776. Its name was changed to Fort Rensselaer in 1780 and it was officially so called until 1786. Markers locate the fort and blockhouse, which stood near the clump of trees on the hill over the right-hand house. The Otsquago had its outlet into the Mohawk from this point. The corn stalks are standing in the bed of the "wide waters" of the old Erie canal.