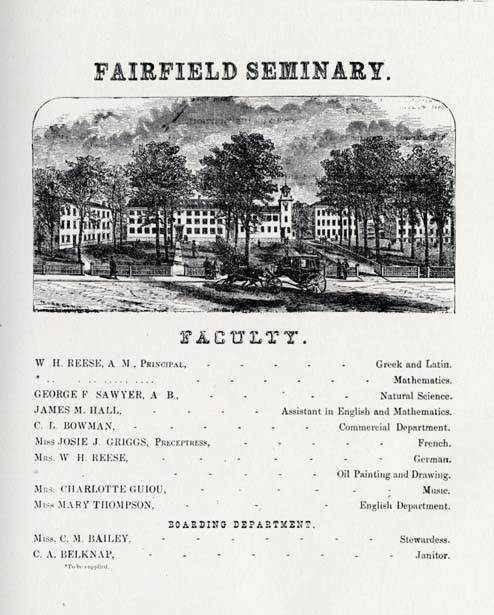 [View 4x enlarged version (204K)]
Cover Page of Fairfield Seminary Circular of 1872
Fairfield Seminary was located in the little village of Fairfield about ten miles northwest of Little Falls and northeast of Herkimer. It was an important educational center for the middle Mohawk Valley, during the nineteenth century. It closed its doors about 1903.
[Transcription follows:]
Fairfield Seminary
Faculty
W. H. Reese, A M., Principal
Greek and Latin.
* ………
Mathematics.
George F. Sawyer, A. B.
Natural Science.
James M. Hall
Assistant in English and Mathematics.
C. L. Bowman
Commercial Department.
Miss Josie J. Griggs, Preceptress
French.
Mrs. W. H. Reese
German.
* ………
Oil Painting and Drawing.
Mrs. Charlotte Guiou
Music.
Miss Mary Thompson
English Department.
Boarding Department
Miss C. M. Bailey
Stewardess.
C. A. Belknap
Janitor.
* To be supplied.