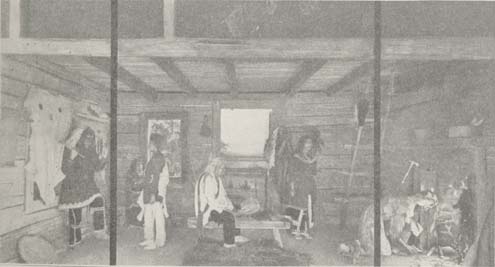 [View 4x enlarged version (63K)]
Photo: The False Face Ceremony of the Cayugas.
This group depicts the period after the coming of the white man, who brought steel tools, cloth and beads. The Indians now lived in log houses and wore cloth clothing cut in native style. This ceremony represents the mid-winter purification rite of the False Face Companions, who build a new fire, sweep the lodge, sprinkle ashes upon the heads of the people, bring good cheer and drive out the witches of evil and disease. The building here used is a real Indian log house from the Tonawanda reservation.
Iroquois Indian Exhibit — False Face Ceremony — Scene, Cayuga Lake. State Museum, Education Building, Albany, N. Y.