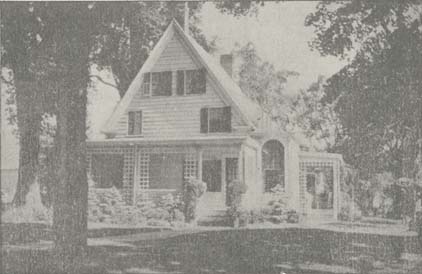 [View 9x enlarged version (162K)]
Photo: Abraham Glen House, Scotia, 1730.
Recently known as the Collins House; now occupied by the Sisters of the School of St. John's R. C. Church. It is No. 14 Mohawk Ave., Scotia, and stands on the east side of the beginning of the Old Mohawk Turnpike at the Scotia end of the Great Western Gateway Bridge. Photo by Mr. Howland S. Stedman, by courtesy of Mr. Hanford Robison, Schenectady.
[Editorial note: The Abraham Glen House is currently used as the Scotia Branch of the Schenectady County Public Library]