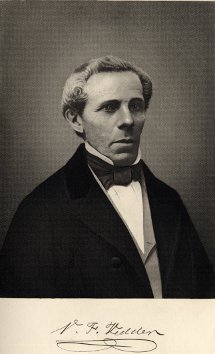 Portrait: Nicholas Francis Vedder
[View enlarged]
Nicholas Francis Vedder, father of Jennie Helen (Vedder) Brower, wife of Dr. Abram G. Brower, was one of the builders of Utica, New York, and although his useful and valuable life ended a half century ago, he wrote his name deep and indelibly upon the record of the city, and he lives in the institutions with which he was connected from their earliest days, as well as in the hearts of those who knew and loved him. He traced descent from the ancient Dutch family founded by Harmen Albertse Vedder, a trader, who early bought land at Schenectady and "Steen Raby" (Lansingburg), New York, prior to 1657. In 1660 he returned to Holland, but came again to New Amsterdam in 1661, and in 1663 leased his "bouwery" at Schenectady to Simon Groot for a period of six years. In 1668 he was again in Holland, and with other merchants from New Amsterdam he bought goods, chartered a ship, and obtained permission from the English government to send them to New Amsterdam for sale. In 1672 he bought more land in Schenectady, and in 1673 was one of three magistrates for the town, and afterward, for disrespect to Albany magistrates and for claiming the right to trade with the Indians, he was reprimanded and warned "to regulate himself accordingly". He bought more land after the Indian Massacre of 1690, and left sons to perpetuate his name.
Nicholas Francis Vedder, son of Francis Van Der Bogard and Helena (Bancker) Vedder, was born in Schenectady, New York, January 10, 1804, and there resided until twenty years of age, when he located in Utica, New York, where he engaged with his elder brother, John Vedder, a dealer in boots and shoes. Later he became a member of the dry goods firm of Guile & Vedder, and later was senior of the firm of Vedder, Welbon & Tyler. In 1855 he retired from mercantile life, and thereafter was associated with many corporations vital to the early growth and prosperity of Utica as a business center. He was an early director of the Utica & Black River Railroad Company, and one of the pioneers in establishing the telegraph in Central New York, subscribing liberally to the stock of the New York, Albany & Buffalo Telegraph Company. He was one of the founders and an early president of the Utica Waterworks Company; was financially interested in the Oneida National Bank; and a director of the Utica Gas Company.
In his political faith Mr. Vedder was a republican, and in religious faith was a pillar of strength to the Dutch Reformed church. He was a warm friend of the Infant Orphan Asylum of New York, the Home for the Friendless, New York, and the Utica Orphan Asylum, all of which he liberally remembered in his will, as he also did the General Synod of the Reformed Church in America, Hamilton College, Faxton Hospital (Utica), and Rutgers College (New Brunswick, New Jersey). The generous use which he made of his fortune demonstrated his spirit of brotherhood and sympathy, for he gave not from a sense of duty, but was prompted in his generosity by a sincere interest in his fellowmen. He died in Utica, New York, on May 1, 1873.
Nicholas Francis Vedder was married in Schenectady, New York, on October 12, 1836, to Cornelia Blandina Veeder, daughter of Garrit S. and Jane (Ten Eyck) Veeder of Schenectady, her father being a descendant of another Dutch settler of the Mohawk and Hudson valleys, Symon Volckertse, who bought a "bouwery" in Schenectady and there settled in 1662. Garrit S. Veeder, who in 1776 was residing in Schenectady, became a captain of the Fourth Regiment, New York Line, serving in the Revolutionary war and in 1809, following the organization of Schenectady county, was appointed the first judge of the court of common pleas for that county. He died February 18, 1836. Nicholas F. and Cornelia Blandina (Veeder) Vedder were the parents of one child, a daughter, Jennie Helen, wife of Dr. Abram G. Brower of Utica.