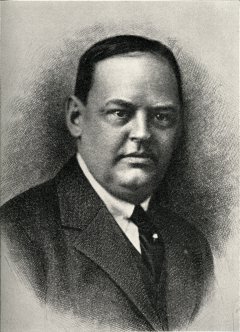 Portrait: Percy Champion Thomas
[View enlarged]
Beginning work with the company as an office boy and gradually working his way upward through various positions, Percy Champion Thomas eventually reached the office of president of the Rome Manufacturing Company, of Rome, Oneida county, New York, and has also become one of the most prominent business men of the Mohawk Valley section of New York state, being actively identified with other important corporations and civic organizations of Rome. He was born in St. Louis, Missouri, on November 5, 1874, the son of James Stringham and Jane Hunt (Dodge) Thomas. The father, who was a railroad man and died in 1891, was a descendant of John Thomas, who came from England in 1635 and settled in Rhode Island; the mother was a daughter of William B. Dodge.
Percy Champion Thomas moved to Rome, New York, when he was sixteen years old. He had attended the public schools of St. Louis, Missouri, and after locating in Rome completed his education in the grammar school and Rome Free Academy. In July, 1892, he entered the employment of the Rome Manufacturing Company in the position of office boy, and by strict attention to his duties and natural adaptability to the work he became successively bookkeeper, office manager, secretary and treasurer, general manager, and finally president, the position he now holds. Mr. Thomas is a director of the Rome Manufacturing Company in addition to being its president, and is also chairman of the board of directors of the Rome Trust Company, a position he has filled since 1919; president of the Lake Delta Improvement Corporation of Rome, New York, and a member of the American Iron & Steel Institute since 1920. During the World war Mr. Thomas was a major in the ordnance department, United States army, from April 15, 1918, to February 1, 1919. Beginning April 15, 1918, he was supervisor in the supervision section, control bureau, ordnance department; then from June 7, 1918, to February 1, 1919, he was financial manager of the Detroit district, ordnance department, Detroit, Michigan. Mr. Thomas was elected presidential elector and a member of the electoral college of the state of New York in 1921, casting one each of New York state's electoral votes for Harding and Coolidge. He was a member of the Rome board of water and sewer commissioners from 1916 to 1921; commissioner of public works in Rome during 1921; president of the Rome community chest 1920 to 1924; president of the Rome Chamber of Commerce in 1914; vice president of Rome community service in 1921; director of the Rotary Club of Rome in 1920; and vestryman of Zion Protestant Episcopal church from 1895 to 1903.
On September 2, 1902, at Westerly, Rhode Island, Mr. Thomas was married to Miss Mary Minton Hoxsey, daughter of William Hoxsey, a town official of Westerly. Two children have been born to Mr. and Mrs. Thomas: Louise Hoxsey and Jane Dodge, both living at the family residence in Rome, New York. Fraternally Mr. Thomas is affiliated with the Benevolent Protective Order of Elks. He is also a member of the Rome Club and was its president from 1919 to 1921, inclusive; the Teugega Country Club and its president in 1910 and 1911; the Fort Schuyler Club and the Adirondack League Club. His favorite recreations are golf, fishing and hunting.