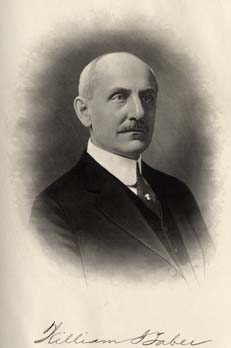 Portrait: William Ira Taber
[View enlarged]
William Ira Taber occupies a prominent position in financial circles of Utica as president of the Citizens Trust Company, of which institution he has been at the head during the past eighteen years. The banking business has claimed his attention throughout his active career and he has worked his way steadily upward from a clerical position to one of executive control and administrative direction. He was born in Herkimer, New York, on the 29th of May, 1865, his parents being Ira and Esther (Sanderson) Taber. In the paternal line he traces his ancestry back to Philip Taber, who was born in England in 1605. The family is an ancient one in England and in Essexshire, bearing the following arms: "Argent on a fesse vert three crosses Crosslet fitchee azure, a lion passant argent." Its crest is "A griffin's head erased, proper". Philip Taber, the Pilgrim, was of Watertown, Massachusetts, as early as 1634, his name being found on the records of Watertown, Plymouth, Yarmouth, and Martha's Vineyard, Massachusetts; he was of New London, Connecticut, Providence, Portsmouth, and Tiverton, Rhode Island, and a man of prominence, holding many offices and engaging in many business transactions. He married (first) Lydia Masters and (second) her sister, Jane. They were daughters of John and Jane Masters, their father having been made a freeman of Watertown in 1631. The five children of Philip Taber were all by his first wife, and in this line descent is traced through Joseph, the fourth and youngest son, who was born in New London, Connecticut, later a resident of Portsmouth, Rhode Island. The line from Joseph Taber is through his second son, Ebenezer Taber of Tiverton, Rhode Island, and his wife, Abigail Taber (his cousin); their son, Walter Taber, born October 1, 1731; their son, Peleg Taber and his wife, Mercy Cole; their son, Albert Taber, and his wife; Nancy Myers; their son, Ira Taber, and his wife, Esther Sanderson; their son, William Ira Taber, of the eighth generation in America.
Ira Taber, father of William I. Taber of this review, was born in Herkimer county, New York, in 1840. At the time of the Civil war he enlisted for service in the Union army, joining the One Hundred and Twenty-first New York Volunteer Infantry, with which he did valiant duty until honorably discharged by reason of the fact that he had become incapacitated. Subsequently he became connected with the New York Central Railroad, serving for a number of years as manager of its real estate and freight terminal at Athens, where he passed away in 1873, at the comparatively early age of thirty-three years, for his health had been undermined by the suffering and privation he had undergone as a soldier. He held membership in the Universalist church and was highly esteemed in his community as a young man of ability and worth.
William I. Taber, whose name introduces this article, pursued his education as a pupil in Utica Academy of Utica, New York, until a youth of eighteen, when he entered business life as clerk in the Herkimer Bank, an institution which was organized as a private bank in 1865, was chartered a state bank in 1885 and reorganized as a national bank in 1897. He became identified therewith in 1883, when it was still a private bank, was appointed assistant cashier when it became a state bank in 1885 and seven years later won promotion to the cashiership. In 1897 he was reelected cashier of the new Herkimer National Bank, continuing in that capacity and also as one of its directors until 1906. In the latter year, after twenty-three years' continuous service with the institution, he severed his connection therewith to accept the position of president of the Citizens Trust Company of Utica. A contemporary biographer wrote:
"Those twenty-three years of experience had developed the boy of eighteen until he was the careful and able financier, familiar with the laws upon which sound banking rests and with the laws governing financial operations, large and small, local or national. The institution to which he transferred his services in 1906 was then one of the smallest in the city of Utica, but under the conservative, progressive management, its advance has been most marked and at this time no trust company in central New York has so large an amount deposited by its patrons. As a member of the New York State Bankers Association and its secretary during the years 1898 and 1899, Mr. Taber has gained a wide acquaintance and come in close touch with problems that needed legislative correction. He was able to aid materially in the effort to equalize taxation of bank and trust companies by securing data from which the state legislature reached a decision which resulted in the law placing them on an equality as regards taxation of their capital, surplus and profits."
While the Citizens Trust Company is Mr. Taber's chief interest, he is also a director of the Massachusetts Mutual Life Insurance Company of Springfield, Massachusetts; director of the Utica Gas and Electric Company; the Consolidated Water Company; Mohawk Valley Investment Corporation and has other interests. He is Utica chairman of the National Budget committee; member of the advisory board of Faxton Hospital; member of the executive committee of the Trust Companies Association of the State of New York; member and ex-president of the Utica Chamber of Commerce. During the years 1917 and 1918, when the United States was involved in the World war, he took an active part in the Liberty Bond campaigns, serving on various committees in helpful capacity.
On the 12th of December, 1900, Mr. Taber was united in marriage to Jennie Stuart Earl, daughter of Samuel Earl, a prominent attorney of Herkimer, New York, and niece of Judge Robert Earl, of the New York court of appeals. To them were born two sons: Samuel Earl Taber, who was born in Herkimer, New York, October 9, 1901, and who acquired his education in the schools of Utica, in the Milton Preparatory School of Milton, Massachusetts, and in Harvard University; and Ira De Witt Taber, who was born in Herkimer, March 22, 1903, and attended the Utica schools and the Rutgers Preparatory School of New Brunswick, New Jersey. The wife and mother passed away March 30, 1903. For his second wife Mr. Taber married Mrs. Bessie (Woodworth) Organ, who died October 5, 1919.
In Masonry Mr. Taber is well known and prominent, having been elected to the honorary thirty-third degree in August, 1923. He is a member of Herkimer Lodge No. 423, F. & A. M.; Iroquois Chapter No. 236, R. A. M., of Ilion; Utica Commandery No. 3, K. T.; Mohawk Valley Consistory, A. & A. S. R., of Utica; and Ziyara Temple, A. A. O. N. M. S., of Utica. He held office in Herkimer Lodge for ten years and was its worshipful master in 1895-96-97; assistant general lecturer in 1898 and district deputy grand master of the Nineteenth Masonic District in 1899. Mr. Taber was appointed a member of the board of trustees of the Masonic Hall and Asylum Fund in 1923. His appreciation for the social amenities of life is manifest in his membership in the Fort Schuyler Club, the Yahnundasis Golf Club, the Sadaquada Golf Club and the Mohawk Valley Engineers Club, while his religious faith is indicated by his membership in Grace Episcopal church. A lifelong resident of the Mohawk valley, he has gained an extensive circle of warm friends in his community and enjoys an enviable reputation as one of its leading financiers.