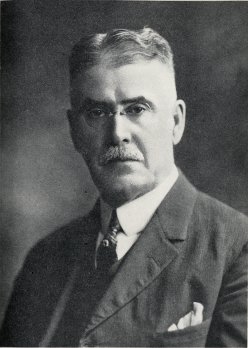 Portrait: Lotus N. Southworth
[View enlarged]
Lotus N. Southworth has been an active and successful representative of the legal profession in Utica for nearly four decades and during the past ten years has followed his chosen calling as senior member of the firm of Southworth & Scanlan. His birth occurred at West Exeter, Otsego county, New York, on the 2d of February, 1856, his parents being Normandus H. and Emma Alida (Niles) Southworth. The family is descended from Lady Alice Southworth, who came to Plymouth, Massachusetts, in 1622 and was married to William Bradford, the first governor of the Massachusetts colony. Her wedding garments are now in the museum at Boston. Rev. James Southworth, the great-grandfather of Lotus N. Southworth, organized the first Congregational church at Rome, New York, in 1800, and became pastor of the church at Bridgewater in 1803. His son, John Southworth, the paternal grandfather of Mr. Southworth of this review, was a native of Burlington, Vermont. He removed to New York very early in the nineteenth century and settled at what is now known as Mapledale, in Bridgewater township, Oneida county, becoming one of the successful agriculturists of that section. Normandus H. Southworth, the father of L. N. Southworth, was born at Bridgewater, Oneida county, became a miller and farmer and departed this life on the 5th of April, 1905, at the age of eighty-three years. In early manhood he wedded Emma Alida Niles, a native of Exeter, Otsego county, this state, and a daughter of Sands and Eunice (Warren) Niles, who came of New England ancestry.
Lotus N. Southworth, whose name introduces this review, was the second in order of birth in a family of five children. He received his early education at West Winfield Academy and later matriculated at Hamilton College, graduating in 1879 with the degree of Bachelor of Arts. He served as principal of Peterboro Academy for one year, and having decided to devote his attention to the legal profession, entered the law office of Judge Samuel A. Bowen of Cooperstown, New York, in 1880, and was admitted to the bar in June, 1883. He began practice at West Winfield but after three years removed to Utica, which city has remained the scene of his professional activity through the intervening period to the present time. He was associated with Hon. John F. Gaffney from 1897 until September, 1902, and then practiced independently until 1914. Since the latter year, however, he has been a partner of Frederick F. Scanlan under the firm style of Southworth & Scanlan. A large and lucrative clientage has been accorded him in recognition of his thorough knowledge of the principles of jurisprudence, which has made him very successful in the work of the courts. For the past twenty-two years Mr. Southworth has acted as agent and attorney for the United States Fidelity & Guaranty Company of Baltimore, Maryland. He served as civil service commissioner for the city of Utica under Mayor Richard W. Sherman, and also as attorney for the state comptroller in the transfer tax proceedings for Oneida county from January, 1909, to January, 1911.
On the 20th of July, 1886, in Utica, New York, Mr. Southworth was married to Miss Julia A. Bouck, who was born at Willowvale, Oneida county, this state. Mr. Southworth is not identified with any religious denomination, but his wife is a member of the Plymouth Congregational church. In politics he gives his adherence to the republican party. Fraternally he is identified with the Masonic order, the Royal Arcanum and the Foresters. His name is also on the membership rolls of the Masonic Club and the Republican Club, while along strictly professional lines he is connected with the Oneida County Bar Association. A contemporary biographer said of him:
"He is a genial, kind-hearted man, but a good fighter when necessary. In his legal practice he never takes undue advantage of an adversary, but asks only an open field and no favors, fully believing that in the end right will prevail. By many years of study and conscientious application he has won high standing as a lawyer and is known as one of the safest counselors and most effective pleaders at the bar of Oneida county."