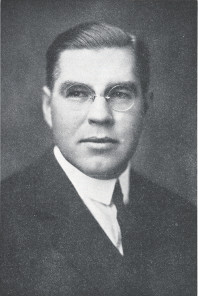 Portrait: Louis C. Smith
[View enlarged]
Louis C. Smith, manager of the Fulton County Gas & Electric Company of Gloversville, is a native of Philadelphia, and was born on the 19th of June, 1885. His parents, Louis C. and Emma F. (Nyman) Smith, were natives of Denmark and Sweden, respectively, and came to America as young people. The father settled in the Quaker City, where he became a building contractor, remaining in this line of work until his death in May, 1889, when Louis C. Smith was a small boy. Mrs. Smith passed away in March, 1919.
After completing the work of the public schools of Philadelphia and the Manual Training High School, Louis C. Smith entered the University of Pennsylvania, from which, in 1907, he obtained both the B. S. in M. E. degrees. In order to supplement his theoretical training with practical experience in the industrial world, the young man went into a foundry and machine shop, where he worked as a mechanic for a year. In 1908 he became associated with the United Gas Improvement Company of Philadelphia and starting at the bottom of the ladder, thoroughly learned the business. Mr. Smith came to Gloversville in 1912 as an Engineer for the Fulton County Gas & Electric Company, a subsidiary of the Philadelphia concern. Two years later he was promoted to the position of manager of the local plant, which position he has held ever since.
On October 18, 1911, Mr. Smith was married to Miss Irene Clare Endy, daughter of Daniel G. and Irene C. (Schell) Endy of Philadelphia. Mr. Endy was born in Boyertown, Pennsylvania, but spent most of his mature life in Philadelphia, where he was engaged in the wholesale rug and carpet business as president of the Artman-Trichler Company until his death in October, 1915. Mrs. Endy, one of the native daughters of Philadelphia, is still living. Mr. and Mrs. Smith have four children: Irene C., born in October, 1912; Louis C., Jr., the fourth in descent to bear the name, born in June, 1915; Daniel Endy, born in October, 1918; and Katherine Virginia, born in October, 1923.
Mr. Smith's business interests aside from his connection with the local gas and electric company, are with the Syracuse Lighting Company of Syracuse and the Fulton County National Bank of Gloversville, in each of which organizations he is a stockholder and director. He votes with the republican party and takes an active interest in civic affairs, belonging to the Kiwanis Club and serving as a director on the board of directors for the local Young Men's Christian Association, and he is a trustee of the Gloversville Home Fund. Socially he is identified with the Eccentric Club and the Colonial Club, while his membership in the Antlers and Sir William Johnson Country Clubs indicates a fondness for the popular game of golf and a love of out-door sports. At college he was a member of the Sigma Phi Epsilon fraternity.