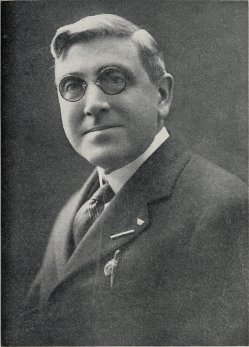 Portrait: Edward Small
[View enlarged]
Edward Small, publisher and postmaster of Herkimer, Herkimer county, New York, died in Mount Sinai Hospital, New York city, following an operation, on August 17, 1922. He was born August 6, 1869, at Small's Bush, Herkimer county, New York, the son of Adam and Nancy (Witherstine) Small, the father being a farmer who was born in 1837 and died in 1875. Nancy Witherstine Small, mother of Edward Small, was born in 1839, the daughter of David Witherstine, a farmer, who died on April 8, 1864. The Witherstines are one of the old families of New York state. Mrs. Nancy (Witherstine) Small passed away in 1912. On the maternal side Edward Small was a great-grandson of John Witherstine, born in 1762 and died in 1835, who served in the Revolutionary war and received his honorable discharge on June 8, 1783. Among the early immigrants from Germany who settled in central New York was Jacob Small, who located in the town of Herkimer and bore a conspicuous part in the trials of the early settlers in the Mohawk valley. Jacob Small joined the Revolutionary army, was captain of Tryon Militia, and met his death a few days after the declaration of peace.
Edward Small obtained his education in the public school at Herkimer, which he attended until he was twelve years old, and then started working in a grocery store. After three years of this the lad went to work for C. C. Witherstine, publisher of the Herkimer Democrat, where he learned the trade of a printer and worked his way upward until he was made foreman of the office. On January 1, 1899, in association with John L. Getman, Mr. Small purchased the Herkimer Evening Telegram, which had been organized and first printed only two months previously. The partnership between Mr. Small and Mr. Getman was subsequently dissolved by mutual consent, and in 1911 the Herkimer Telegram Publishing Company was organized, with Mr. Small as president and treasurer. Upon the death of Mr. Small, his son, Wesley P. Small, succeeded him as president and secretary of the company, with Mr. Small's widow, Nellie P. Small, as treasurer.
Fraternally Edward Small was affiliated with the Masonic order and was a Thirty-second Degree Mason, belonging to Herkimer Lodge, No. 423, F. & A. M., Mohawk Valley Consistory; Khorassan Grotto, and he was also a Noble of Ziyara Temple of the Mystic Shrine of Utica, New York. He also had membership in the Benevolent Protective Order of Elks and Damon Lodge, Knights of Pythias, of Ilion, New York. He was also a member of the General Nicholas Herkimer Council, O. U. A. M., the Fort Dayton Grange, the Fort Dayton Steamer Company, the Royal Arcanum, the Down and Out Club, the Exchange Club, the Chamber of Commerce, the German Maennerchor, the Men's Club of Christ Protestant Episcopal church, and Mohawk Valley Chapter, Sons of the American Revolution.
A thorough newspaper man and an astute politician Mr. Small was identified with the republican party during his lifetime. He held many positions of public responsibility and trust, and was a member of the Herkimer board of health from 1898 to 1902, of the Herkimer board of alms from 1898 to 1902, and commissioner of jurors from 1906 until 1910. Mr. Small was elected town clerk in 1898, supervisor in 1903, chief of the Herkimer fire department in 1905, president of the Business Men's Association in 1911 and 1912, director of the Herkimer Chamber of Commerce from 1920 to 1922, director of the Herkimer National Bank from September 13, 1921, and republican state committeeman since 1914, resigning that office during his last illness. On February 14, 1921, President Warren G. Harding appointed Mr. Small postmaster of Herkimer and he served until his death.
On August 6, 1894, at Herkimer, Mr. Small was married to Miss Nellie Parker, daughter of John B. Parker, a master printer of Little Falls, New York. Mrs. Small and her son, Wesley Parker Small, and her daughter, Marjorie Lucy Small, survive the husband and father. Mrs. Small has always been a partner in the newspaper and worked on the paper in its early years. She is now postmistress of Herkimer, having been appointed to fill the vacancy left by the death of her husband. Mrs. Small so capably filled the position as acting postmaster that she was highly endorsed by many prominent citizens, and on January 8, 1924, she was appointed postmistress by President Coolidge, for four years. One of the prominent men of Herkimer has said of her:
"She is one of the few women, who, with little previous business training, has been able successfully to step into and carry on her husband's business, both in the newspaper work and now as postmaster; and we admire her for her ability in both."