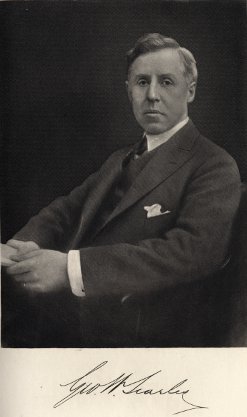 Portrait: George Walton Searles
[View enlarged]
George Walton Searles occupies an influential position in the business life of Herkimer as president of the National Desk Company, with which he has been associated in his present capacity for the past sixteen years. He was born in Belleville, New York, on March 15, 1858, and through the paternal line is descended from one Edward Searles, who was born in Warwick, England, in 1616 and came to Boston in 1634, at the age of eighteen. He lived in that Colonial city until his death in 1669. Another branch of the Searles family tree, the Thurston line, has been prominent in Rhode Island since the very early days and has furnished one governor for that tiny state. William Thurston Searles, father of George Walton Searles, was the son of James and Abby Searles and was born in Bennington, Vermont, in 1808. He died in Belleville, New York, and was laid to rest in the cemetery at Ellisburg in 1864. His wife was Lucinda B. White before her marriage. She was born in Morrisville, New York, in 1824, and died in Adams, Jefferson county, at the age of seventy-four. She was buried in Ellisburg beside her husband.
George Walton Searles attended the high school in Adams, New York, where he spent his boyhood, and went to the Hungerford Collegiate Institute in the same place, graduating from the latter in the class of 1873, with high honors. He took the only prize offered in the commercial department of the school for the best examinations in commercial law, accounting and bookkeeping. At the request of the school authorities he remained at Hungerford the following year in charge of the bank in the commercial department, receiving in return for his services free tuition in the school, where he took some advanced courses. In 1874 Mr. Searles put his knowledge of bookkeeping and accounting to a practical test by accepting a position as bookkeeper for H. G. Munger of Herkimer, New York, in his dry goods store, remaining there for six years. His next position was with D. H. Burrell & Company of Little Falls, with whom he remained for seventeen years as financial agent. In 1894 he came to Herkimer to assist in the organization of the Horrocks Desk Company, in which William Horrocks and H. G. Munger, his brother-in-law, were likewise interested. Mr. Horrocks became president of the newly formed concern and Mr. Searles its secretary and treasurer. Mr. Searles severed his connections with this company in 1908 to go to the National Desk Company of Herkimer as president and manager, his present position. This firm is engaged exclusively in the manufacture of office desks, which it sells throughout the country, doing a profitable business that reflects great credit upon the village of Herkimer as well as upon its officers and management. Mr. Searles is also interested in the Herkimer National Bank, of which he is now a director.
Politically Mr. Searles is affiliated with the republican party, but he has never sought any active part in public life. He supports the Herkimer Free Library and does his share toward advancing the village welfare along civic and educational lines. His religious faith is indicated by his membership in Christ church of Herkimer, of which he is junior warden, and his clubs are the Down and Out and Little Falls Country Clubs. Golf and motoring are his chief forms of recreation and outdoor sport.
On the 12th of January, 1882, Mr. Searles and Miss Elizabeth Grosvenor, daughter of George and Mary (Gray) Grosvenor, were united in marriage. Mrs. Searles was born in Herkimer and died in Little Falls on May 12, 1894, at the untimely age of thirty-six, leaving her husband and three little daughters to mourn her loss. The youngest child, Mary White Searles, was born on October 21, 1887, and was educated in the Herkimer schools and St. Agnes School of Albany. In 1915 she was united in marriage to Bernard Wich, who comes from a Baltimore family but makes his home in Brooklyn, New York. Mr. Wich is a mechanical engineer by profession and is connected with the New York city subway system. Twin daughters, Elizabeth Gray and Louise Grosvenor Searles were born to Mr. and Mrs. Searles March 15, 1883. They were educated in a private school in Herkimer and St. Agnes School of Albany and are now teaching in the Miss Thomas School for Girls, a select school of South Norwalk, Connecticut. On February 24, 1903, Mr. Searles was married to Fra Egbert Burris, at Horseheads, New York. Mrs. Searles was born in Fort Scott, Kansas, on December 3, 1878.