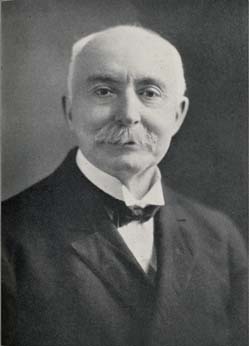 Portrait: William Ellis Scripture
[View enlarged]
One of the oldest lawyers in the state of New York and the oldest judge in active service is Judge William Ellis Scripture of Rome, Oneida county, New York, who in 1919 was appointed official referee of the supreme court as an honor and appreciation of his former services. The appointment is for life. Judge Scripture is a republican in politics and a very active member of the party, having attended nearly every republican convention and has headed delegations to judicial conventions for years, He has always had a great liking for politics and has had many encounters and debates with, and formed the acquaintance of, most of the great men of his time in the United States. Among these acquaintances were Roscoe Conkling and General Grant, whom Judge Scripture met when he was a delegate to the convention in Chicago, Illinois, which nominated James G. Blaine for president. Both Mr. Conkling and General Grant were opposed to Mr. Blaine. William Ellis Scripture was born at Westmoreland, Oneida county, New York, on November 2, 1843, the son of Parker A. and Harriet Standish (Snow) Scripture, the mother being a descendant of Captain Miles Standish, her immediate family settling in Oneida county about 1820, moving there from Massachusetts. The original Scripture family, consisting of four brothers, came from Wales in 1640 and settled in Tolland county, Connecticut. The founder of the family in Oneida county, New York, Hiram Scripture, settled in the county about 1780.
William Ellis Scripture obtained his education in Whitetown Seminary, from which he graduated in 1865, entered Hamilton College, at Clinton, New York, and after leaving the latter institution pursued his professional studies in the Albany Law School, from which he graduated in 1867 and was admitted to the bar the same year. He began the practice of law at Canastota, New York, as a member of the firm of Hutchins & Scripture, and in the fall of 1868 became junior partner of Weld & Scripture, in Rome, New York, the firm name later becoming Scripture & Fowler, and afterward Mr. Scripture was associated with George H. Weaver, E. M. Pavey and O. P. Backus. The judge is now associated with his son under the firm name of Scripture & Scripture. In 1895 Mr. Scripture was elected and took the office of justice of the superior court of the Fifth Judicial District, a position which he held until 1909. He was elected in 1895 by forty thousand majority, the largest majority ever given. Judge Scripture served nearly four years as postmaster of Rome under President Harrison, and then resigned. He is a member of the Rome Club, the Republican Club of Rome and Utica and the Oneida County Bar Association. The Judge is very fond of fishing and is considered an expert at casting. His residence in Rome is at No. 503 North James street, and he has a summer home on the west branch of the Mohawk river, twelve miles north of Rome.
On August 15, 1867, Judge Scripture was married to Miss Emma C. Goodwin, daughter of Israel F. Goodwin of Westmoreland. The eight children born to Judge and Mrs. Scripture are: Mae Standish, now Mrs. J. V. Holtby, of Philadelphia, Pennsylvania; Mina E.; Ella G.; Emma H., deceased; Ruth, deceased; Parker F. and William E., Jr., associated with their father; and Vina, now Mrs. C. H. Adams of Westport and Albany, New York.