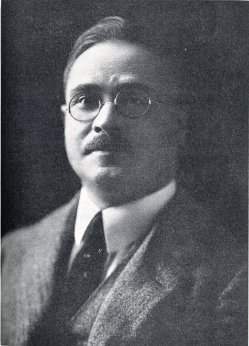 Portrait: Francesco Robertaccio, M. D.
[View enlarged]
Dr. Francesco Robertaccio, who has built up an extensive practice during the two decades of his identification with the medical profession in Utica, enjoys high standing as a physician and surgeon of marked skill and ability. He was born at Laurenzana, Italy, on the 19th of April, 1868, a son of John Robertaccio, and spent the first thirty years of his life in his native land. After pursuing the regular school course in Laurenzana, Francesco Robertaccio entered the Gymnasium, in which he continued his studies for five years. He then attended the lyceum for three years and for six years was a student at the Royal University of Naples, graduating in medicine and surgery in 1895, with diplomas and the degree of M. D. After completing the course at the university he remained for three years at Naples and practiced in the hospitals and also in the city, gaining experience that has been of great value to him in his work. In 1898 he emigrated to America and took up his residence in Chicago, where he passed the Illinois state medical examination. It is said that he is the first Italian to receive a certificate from the state board of medical examiners in the state of Illinois. He engaged in general practice in Chicago and also as examining physician for numerous fraternal and benevolent societies until 1905, and then came to Utica, which city has remained the scene of his professional activity through the intervening years to the present time. Dr. Robertaccio has been appointed examining physician for several societies and life insurance companies and has served on the staff of Faxton Hospital for seventeen years. He is a member of the Oneida County Medical Society, the New York State Medical Society and the American Medical Association. In 1908, at the request of his patients, he established at No. 411 Bleecker street the first Italian drug store in Utica, whose employes are familiar with the Italian language.
A man of attractive social qualities, Dr. Robertaccio is highly popular, not only among his fellow countrymen but among citizens of all nationalities. He is a member of the Visunita Club and of the Sons of Columbus, being president of the latter organization. He still enjoys the freedom of bachelorhood and is the owner of a large and well selected library of medical, literary and scientific works and is a constant student and investigator, whose greatest delight it is to make new excursions into the realm of knowledge. As an intelligent and progressive citizen he is highly respected and no man in the medical profession is more prompt in devoting his talents to the relief of others, even when there is no expectation of financial reward. His professional colleagues and contemporaries always find in him a consistently loyal supporter of the most advanced ethics and accord him their warm regard and confidence. His office and residence are at No. 750 Bleecker street.