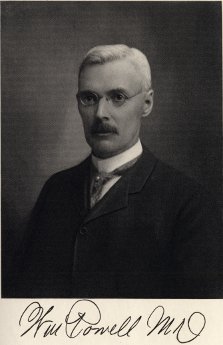 Portrait: William Powell, M. D.
[View enlarged]
Dr. William Powell, whose ability in the practice of medicine and surgery is attested by the splendid success which has attended his efforts, has been a physician of Utica for the past third of a century and is a worthy representative of one of the oldest and best known families of Oneida county. His birth occurred in the town of Western, on the 11th of June, 1856, his parents being P. D. and Elizabeth (Grems) Powell, the former a lineal descendant of the Long Island family of that name. The ancestry is traced back to Thomas Powell, who when quite young came from Wales to the New World in the year 1641. Dr. Powell of this review is numbered among his descendants of the seventh generation. The family has been represented in Oneida county since the year 1806, when the grandfather of the Doctor took up his abode at Quaker Hill, where P. D. Powell and his son William were both born. Along lines of usefulness those of the name have put forth activity that has constituted a valuable contribution to the material development of the community and the upbuilding of its business interests.
Dr. Powell completed his literary education in Rome Academy and afterward entered the Long Island College Hospital at Brooklyn, New York, where he won his professional degree upon his graduation with the class of 1881. The following year he entered upon active practice in Turin, Lewis county, this state, and afterward spent a year in the west. Subsequently he opened an office at New York Mills, in Oneida county, but seeking a broader field of labor came to Utica in 1891. In the thirty-three years which have since passed, his professional duties have been discharged so ably and with such a sense of conscientious obligation that his patronage has steadily increased and he has long been numbered among the foremost physicians of his adopted city.
In March, 1893, Dr. Powell was married to Miss Cora Elizabeth Hatfield, who passed away in the following year. Few interests outside of his profession have claimed his time and attention. He has always preferred to concentrate his activity upon the duties of the life work which he has chosen and in keeping in touch with the advancement of the medical fraternity he holds membership with the Utica Medical Library Association, the Oneida County Medical Society and the New York State Medical Society.