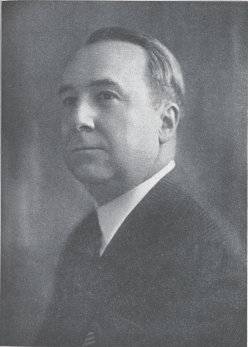 Portrait: William McLaughlin Martin
[View enlarged]
William McLaughlin Martin, president of the Hotel Martin Company of Utica, was born in that city, on October 29, 1873, the son of Edward and Henrietta (McLaughlin) Martin. Edward Martin, a native of Ireland, came to America in the late '60s and died in Utica in 1923. His wife died in 1917.
William McLaughlin Martin received his early education in the Utica public schools, then became interested in the hotel business, becoming owner of the New American in Utica with but twelve rooms and made improvements and enlargements from time to time. In 1917 he organized the Hotel Martin Company, of which he is president. Hotel Martin is one of the leading hotels of Utica. In 1924 Mr. Martin let the contract for an addition of two hundred and thirty-five more rooms, costing $1,100,000. He also conducts the Martin farms, which supply the table with fine products.
In 1899, in Utica, New York, Mr. Martin was united in marriage to Miss Maud Dygert, daughter of James and Mary Dygert, of a well known family in Oneida county. Mr. and Mrs. Martin have a son, Edward W. Martin, who is associated with his father in business. Mr. Martin is a member of the board of managers of the Utica State Hospital. He belongs to Benevolent Protective Order of Elks, No. 33, and the Knights of Columbus, and is also a member of the City Club and of the Utica Golf and Country Club. In politics he is a democrat and is fond of horses as a diversion. The wisdom of Mr. Martin in forming new plans for the expansion of his business has been proven by the success which has crowned his efforts.