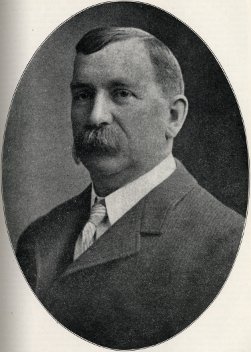 Portrait: John Martin
[View enlarged]
The late John Martin, for over a quarter of a century a leading merchant in Gloversville and one of the men of his generation who contributed substantially to the development of this community, was born in Springfield, New Hampshire, August 16, 1847, of Scotch-Irish stock. His father, Reuben Martin, was born March 10, 1807, and died May 8, 1851, while his paternal grandfather, Dr. William Martin of Londonderry, New Hampshire, became the first practicing physician in Sutton of that state. Mr. Martin's mother was Mrs. Eliza A. (Langmaid) Worth before her marriage to Reuben Martin, and a native of Concord. She died in Suncook, New Hampshire, August 23, 1867, when her son, John Martin, was twenty years of age.
John Martin was educated in the public schools of Sutton, New Hampshire, the home of his grandfather, Dr. Martin. As a boy he knew little of a father's care and companionship, for Reuben Martin passed away when his little son was less than four years old. During the Civil war Reuben Martin was a member of Company E, Eighth Regiment, Massachusetts Volunteer Militia. At the close of the Civil war, like many other eastern men and boys, John Martin went west to Kansas to begin life anew as a farmer and stock-grower. His future did not lay in that direction, however, and three years later he was back east in Wakefield, engaged in the dry goods business with his brother, William. Subsequently he bought out his brother's interest in the store and conducted it alone until 1879. In that year he entered into partnership with H. H. Sturtevant in Zanesville, Ohio, where he remained until he came to Gloversville in 1890, where he purchased the business of Dan Edwards & Son, and organized the Martin & Naylor Company to operate a department store. During his lifetime this establishment grew into one of the leading mercantile institutions of this section of New York, attracting the patronage of people from far beyond the limits of Gloversville and even of Fulton county. Mr. Martin possessed a sound knowledge of merchandising methods and was a close student of the public, so that he was able to anticipate its wants in selecting the goods that he displayed in his store. Reliability, courteous service and sound values in merchandise were the three standards he ever strove to maintain, for he rightly believed that the people will trade where they can be assured that the merchandise is exactly what it is represented to be and that the prices charged are fair both to buyer and to the merchant. In building up his establishment he rendered a valuable service to the people of the community, who have been ready to express their appreciation of the increased facilities for shopping afforded by this store by according it a generous share of their patronage. In addition to his activities as a merchant, Mr. Martin was a director of the City National Bank of Gloversville until his death, which occurred at Miami, Florida, January 17, 1917. His death was mourned throughout the community as a loss that could not be easily replaced, for the regret felt by the citizens of Gloversville when they heard the sad news was that of personal sorrow, mingled with the realization that the city had lost one of its foremost leaders in commercial life.
On the 8th of November, 1881, Mr. Martin was united in marriage to Miss Mary Wilder Adams, the ceremony taking place at Lowell, Massachusetts. Mrs. Martin was born at Haverhill, New Hampshire, March 26, 1857, and is the daughter of Ezra Bartlett Adams and his wife, Mary Lincoln Wilder. Her mother, who was born in Leominster, Massachusetts, January 22, 1826, died in Haverhill, May 17, 1857, less than two months after her little daughter was born. The father, a native of Haverhill, his birth occurring there December 31, 1826, lived to a ripe old age, passing away in Gloversville, on September 11, 1914. Through her mother, Mrs. Martin claims membership in the seventh generation of the family descended from the pioneer, Thomas Wilder of Shiplock, Oxfordshire, England, who came to America on the ship Confidence and landed in Boston in 1638. He settled at Lancaster, Worcester county. It was left to his descendants to defend this place against the Indians during King Philip's war in 1675 and 1676, and again in the summer of 1704, when it was attacked by the French and Indians. By her marriage Mary Wilder (Adams) Martin became the mother of two daughters: Grace Adams Martin, born September 9, 1882, and married November 26, 1911, to Burt Z. Kasson of Gloversville, where they now reside; and Helen Wilder Martin, born December 13, 1884, at Zanesville, Ohio. The younger daughter became the wife of William Wemple Strong on January 2, 1908, at Gloversville, their present place of residence. Mr. Strong, who is mentioned at length elsewhere in this work, was for several years associated with his father-in-law in the mercantile business and since his death has been manager of the Martin & Naylor Company.
Mr. Martin was for many years a member of the First Congregational church of Gloversville and in his political views followed the leadership of the republican party. An ardent fisherman, for years he found his greatest recreation and pleasure in matching his skill as a sportsman against the strength and cunning of the members of the finny tribe. Unostentatious in his mode of living and preferring the simple pleasures of home life to social gaiety, Mr. Martin was devoted to his home and family. While he never sought a place of prominence in the civic and political life of the community, his example as a citizen was one that could well be followed by his fellow townsmen, for his influence was always found on the side of those things that make for better government and civic progress and his private undertakings were of a nature that advanced the common good.