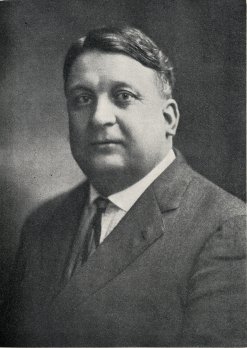 Portrait: Robert Barker Lester
[View enlarged]
Starting out to provide for his own support when a lad of ten years, Robert Barker Lester has made steady advancement in the business world until he now occupies the presidency of the Thomas R. Bailey Company, Incorporated, of Utica, one of the largest contracting and decorating concerns in northern New York. His birth occurred in Buffalo, this state, on the 3d of December, 1876, his parents being Philip and Emma (Barker) Lester. The father died in the year 1879.
The early life of Robert Barker Lester was a period of strenuous toil and adversity that called forth the elemental strength of his character and developed in him the qualities of perseverance, patience and industry. He was but ten years of age when he secured employment in the establishment now known as the Thomas R. Bailey Company in Utica and six years later had risen to the position of shop foreman. The founder of this business was John Tunbridge, who learned his trade in London, England, and came to this country in 1825. Seven years' work in New York city as a journeyman convinced him that his ability and skill would enable him to establish a profitable business of his own. Coming to the small town of Utica, New York, in 1832, he bought a good piece of property for five hundred dollars and started business in a very small way. Prosperity came to him, so that when his shop was destroyed by fire in 1850 he was able to build a new and better building to care for his expanding trade. Owing to his diligence in business and the reputation he acquired for good work and straightforward dealing his business increased, and he continued a successful career until his death in 1875. Mr. Tunbridge was succeeded by his son, S. T. Tunbridge, who carried on the business until 1883 and was followed by Thomas R. Bailey, who had started with the firm in 1869 as a shop boy. In 1911 the firm became Thomas R. Bailey & Company by the admission of Robert B. Lester, who had been with Mr. Bailey for twenty-five years as shop boy, journeyman, foreman and estimator. This arrangement continued until Mr. Bailey's death in 1915, when Mr. Lester purchased the Bailey interests from his estate, continuing under the same firm name. Expanding business led to incorporation in 1922, under the name of the Thomas R. Bailey Company, Incorporated, with Robert B. Lester as president. In March, 1924, the corporation moved into much larger and more convenient quarters at No. 12 Meadow street, in Utica, and now occupies a four-story brick building which is devoted exclusively to contract painting and decorating in all branches. The excellent reputation for service and quality work earned over a period of eighty years is scrupulously maintained. It is said that the Bailey Company gives employment both in the summer and winter seasons to a larger force of skillful mechanics than any other similar concern in New York state outside of the metropolitan district. Special attention has been given of late years to large contracts on public buildings such as schools, banks, hotels, theatres, state institutions, etc. The ecclesiastical department is directly in charge of Charles F. Wood of the late firm of Wood Brothers. A large number of fine church decorations in this and adjoining states finished in the past years stand to the credit of the Bailey Company and Mr. Wood. The present officers of the corporation are as follows: Robert B. Lester, president; Jesse S. Bird, treasurer; and Samuel Sloan, secretary. The splendid success of the corporation is largely attributable to the wise management and careful control of the man at its head. In the field of decorating, designing and painting contracting the Thomas R. Bailey Company does a business second to none.
In early manhood Mr. Lester was united in marriage to Miss Ida Beckwith, daughter of Henry and Jane (Selcox) Beckwith. Their children are four in number, namely: Ethel Arline, Ralph Philip, Dorothy Jane and Robert Beckwith.
In Masonry Mr. Lester has attained the thirty-second degree of the Scottish Rite, belonging to Utica Lodge No. 47, F. & A. M.; Oneida Chapter, No. 57, R. A. M.; Utica Commandery No. 3, K. T.; Mohawk Valley Consistory, A. A. S. R.; and Ziyara Temple, A. A. O. N. M. S. He is likewise identified with the Benevolent Protective Order of Elks and also has membership connection with the City Club and the Masonic Club, being a charter member of the latter organization. He enjoys in unusual degree the confidence of his fellow townsmen and is held in high esteem throughout the community in which he resides. Philosophers have taught that we get nothing in life save that which we gain from experience. If this be true, the life of Robert B. Lester is a very rich one, for his experiences have been broad and varied and he has, passed from poverty to success. The gray days of youth have been transmuted by the sunshine of prosperity. Memory has softened the harsh outlines of his early trials and hardships, and by reason of his life of industry and thrift he is able to enjoy all those comforts and many of the luxuries which go to make life worth living.