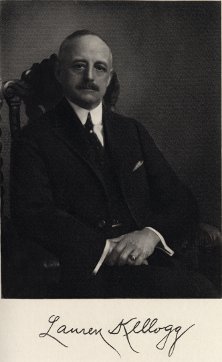 Portrait: Lauren Kellogg
[View enlarged]
Lauren Kellogg has long been numbered among the prominent representatives of industrial interests in the Mohawk valley as junior partner of the firm of Kelloggs & Miller in Amsterdam, a linseed oil manufacturing concern which had its inception a century ago. The business was founded by Supplina Kellogg in 1824 and has been continuously operated since that time by his sons and grandsons. A representative of the eighth generation of the family in America, Lauren Kellogg is a native son of Amsterdam, Montgomery county, New York, and was born on the 4th of August, 1858, his parents being John and Olive D. Kellogg. The ancestral record of the family, as well as a review of the business of Kelloggs & Miller, may be found in the sketch of John Kellogg on another page of this publication.
After receiving a liberal education Lauren Kellogg became associated in business with his father, John Kellogg, and his brother, George Kellogg, while upon attaining his majority he was made a member of the firm of Kelloggs & Miller. Since his father's death in 1911 he has been actively engaged with his brother in conducting the business, which in large measure owes its steady expansion and continued success to his splendid executive ability, sound judgment and careful control. He is also a director of the Amsterdam City National Bank.
On the 17th of November, 1880, in Port Jervis, New York, Mr. Kellogg was united in marriage to Miss Elizabeth Fish, who passed away on October 14, 1916, leaving two children: John D., who was born April 12, 1886; and Lauren, whose natal day was November 11, 1890. Both are connected with Kelloggs & Miller. On the 7th of December, 1921, in Fort Plain, New York, Mr. Kellogg was again married, his second union being with Elsie S. Casler. He is a life member of the Benevolent Protective Order of Elks and also belongs to the Amsterdam Board of Trade and the Antlers Club of Amsterdam. The community in which he has always made his home counts him among her most valued, progressive and prosperous citizens.