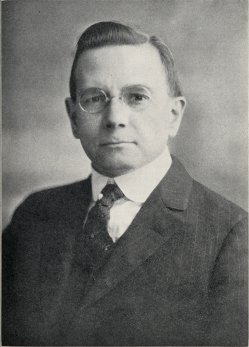 Portrait: Eugene Albert Hieber
[View enlarged]
Since 1907 Eugene Albert Hieber has filled the dual position of secretary and treasurer of John C. Hieber & Company, Incorporated. Utica numbers him among her native sons, for it was in this city that his birth occurred on the 31st of January, 1876. In the acquirement of an education he attended the public schools to the age of fifteen years, when he obtained a position with the Utica City National Bank, with which institution he remained for about three years. It was in 1894 that he joined his father, John Christian Hieber, and his brother, Theodore William Hieber, in the firm of John C. Hieber & Company, in the conduct of which he has continued an active factor to the present time. At first he worked in minor positions, being gradually promoted as he demonstrated his ability and trustworthiness until in 1901 he and his brother were admitted as partners in the firm. Since the incorporation of the busness in 1907 he has served as secretary and treasurer of John C. Hieber & Company. In this dual capacity he handles all of the credits, office work and financial affairs of the corporation in a manner that has contributed in substantial measure to the steady expansion and continued success of the corporation.
On the 26th of November, 1912, Mr. Hieber was married to Miss Mary Etta Yount of Utica and they have become the parents of two children: John C., born in 1914; and Ruth E., whose natal year was 1916.
Mr. Hieber exercises his right of franchise in support of the men and measures of the republican party, and though not a politician in the usually accepted sense of the term, he withholds his aid from no plan or measure looking toward civic advancement or the promotion of the general welfare. He belongs to the Republican Marching Club but to no social organizations, for he is a man of domestic tastes who finds his chief pleasure in the companionship of his wife and children. In musical circles, however, he is well known and much sought, for he has inherited his father's love for vocal music. Mr. Hieber is the president of the Philharmonic Society and a member of the Hayden Male Choir. He is a church councilman and for a quarter of a century has been a teacher in the Sunday school of the Evangelical Lutheran Church of the Redeemer, which his father assisted in organizing. Those who know him, and he has many friends, esteem him highly as a man of genuine personal worth, his dominant characteristics being such as have gained for him the kindly regard, confidence and goodwill of all with whom he has been brought into contact.