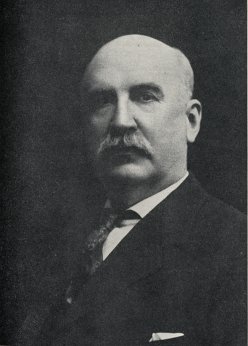 Portrait: John Van Kirk Hemstreet, D. D. S.
[View enlarged]
The village of Herkimer, Herkimer county, sustained a great loss in the death of one of its most prominent citizens when Dr. John Van Kirk Hemstreet was called to his final rest, on the 24th of June, 1919. Although Dr. Hemstreet was educated for the dental profession, in which he met with great success, he is best known in this community for his efforts as a business man and manufacturer, for he retired from his profession after about ten years of practice, to become connected with the Standard Furniture Company, of which he was the vice president at the time of his death. Dr. Hemstreet lacked but a month of being sixty-seven years old, his birth having occurred in New York Mills, New York, on the 24th of July, 1852. He was the son of John B. Hemstreet, a native of Carlisle, Schoharie county, and grandson of John B. Hemstreet, Sr., and his second wife, Rosetta S. Belknap. Through his father he was of Dutch descent, his great-grandfather having immigrated to this country from Holland in 1832. Dr. Hemstreet's mother, who bore the maiden name of Christiana Moore, was born in October of 1826 and died in Carlisle, New York, years ago.
John Van Kirk Hemstreet was a graduate of Fairfield Seminary, Fairfield, New York, and an alumnus of the Pennsylvania Dental College of Philadelphia. After graduating from the latter institution the young dentist located in Little Falls, where he opened an office for the practice of his chosen profession and in the ensuing ten years built up a large and lucrative practice. About this time, however, his attention was attracted to the Standard Furniture Company of Herkimer, which promised to provide its officers and stockholders with large opportunities for business expansion and the accumulation of considerable wealth, and he determined to retire from his profession to engage in this business. He therefore came to Herkimer and established a connection with this company during the administration of Michael Foley and became vice president of the company, succeeding Mr. Horrick. The history of the Standard Furniture Company needs no repetition in this place. With the passage of the years it has grown to be the largest firm in the world engaged in the manufacture of office desks and tables and its products are sold everywhere that office furniture is used. No small share of the credit for this growth is due to the officers who directed its affairs in the last two or three decades, among whom Dr. Hemstreet stood out as a man of superior ability and great commercial sagacity.
Dr. Hemstreet was prominent in many of the activities of this village which sadly miss his enthusiasm and wise counsel. He was a director in the First National Bank of Herkimer for many years. His political support was given to the republican party, while in fraternal circles he was an Elk and a Mason of high rank. In the latter order he had degrees in the blue lodge and the Commandery and was a Noble of the Mystic Shrine. He attended Christ's Episcopal church, of which his wife is a member and he was one of the members of the Down and Out Club. Golf was his favorite form of recreation and like many of his neighbors and associates he held membership in the Little Falls Country Club, where he was frequently to be seen on the links with his friends, enjoying a round of this popular game. Both by his residence in Little Falls for some years and later business and social relationships with residents of that city, he made many friends there, as well as in Herkimer, so that his passing has left a vacancy in many a circle that can not be readily filled.
The marriage of Dr. Hemstreet to Miss Jennie Colbath was celebrated in Little Falls on the 10th of January, 1887. Mrs. Hemstreet was born in Burlington, Vermont, November 14, 1853, the daughter of Ransom and Julia (Blood) Colbath. Her father was a native born Canadian of English parentage, his father, Richard Colbath, having immigrated to the Dominion from England. Julia Blood, Mrs. Hemstreet's mother, was born on the 14th of February, 1824, at Burlington, and died there. She was the daughter of Nathaniel Blood, Jr., and his wife, Lucinda (McClellan) Blood. The former was a lumber merchant and a veteran of the War of 1812, in which he served as a volunteer. Mrs. Blood's grandfather, Nathaniel Blood, Sr., came to Vermont from his native Scotland and made his home in the New England state for the rest of his life. Mrs. Hemstreet is a devout member of Christ's church at Herkimer, in whose parish work she has actively participated for many years, giving freely of her time and means to its support. Her interest has been a factor in promoting the growth of the parish, in which she is rightly regarded as one of the prominent members.