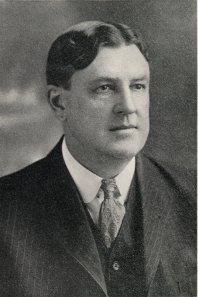 Portrait: John R. Harper
[View enlarged]
When he started in the plumbing business at Rome, Oneida county, New York, a basement in the Gleasman & Howes block provided ample room for his operations and he remained there five years before he began to find the quarters too cramped to care for his fast increasing business. Then John R. Harper moved to his present location on Dominick street, capacious enough for the largest plumbing business in the city, which is the pleasant distinction accorded Mr. Harper in the trade. He was born in Rome, Oneida county, New York, in 1877, the son of Robert and Ellen (Moore) Harper, the father a native of New York state, and the mother of Worcester, Massachusetts. Robert Harper, the father, was chief engineer at the County Home for about twenty years, and he and his wife are still living. They were the parents of seven children, of whom John R. of this review is the oldest.
John R. Harper obtained his education in the public schools and at the age of fifteen found employment in the Hame Works, run by Rosenberg Brothers, remaining there one year, when he went with Russ & Son to learn the plumber's trade, serving an apprenticeship of three years and remaining with the firm four years in all, and later working for a man named Tobin. In the fall of 1900 Mr. Harper embarked in business for himself, under the firm name of Rougeutt & Harper, a connection which lasted for three years, since which time Mr. Harper has been in business by himself. He is chairman of the plumbing board of the city of Rome, a republican in his political views, and fraternally is affiliated with the B. P. O. E., the Knights of Columbus and the Moose. Mr. Harper is a member of the Rome Chamber of Commerce, was treasurer of the organization for two years, and is a member of its executive board. He also belongs to the Rome Club, the Teugega Country Club and the Rotary Club, the Master Plumbers Association, national, state and local, and was formerly president of the local. In religion Mr. Harper is a Roman Catholic, attends St. Peter's church in Rome, and was formerly treasurer of the Holy Name Society of the church.
Mr. Harper was married in Rome on July 23, 1907, to Miss Maria C. Baynes, daughter of Anthony Baynes, an old family in the city, the father being a former boatman on the canal. Mrs. Harper is a member of the Woman's Club and is active in civic work. The four children born to their union are: Marie, John R., Jr., James A. and Francis, all at home with their parents at No. 116 West Exchange street.