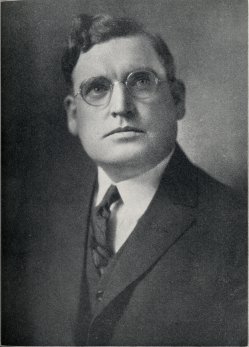 Portrait: Albert Lansing Fagan, M. D.
[View enlarged]
Dr. Albert Lansing Fagan was born in Herkimer on November 16, 1885. He is a son of the late James Fagan of Herkimer, who passed away on February 25, 1919, at the advanced age of eighty-one. James Fagan was born in Rassilough, County Meath, Ireland, but came to the United States at an early age and had lived in Herkimer for sixty-two years at the time of his decease. He was one of the first Irishmen to settle in Herkimer. During a long period James Fagan was in the employ of the New York Central Railroad, while subsequently he served as manager of the Home Telephone Company lines until the corporation was acquired by the New York Telephone Company. To him and his wife, who bore the maiden name of Mary Murray and was born in Jacksonburgh, Herkimer county, in 1843, were born ten children [Editorial note: including James Howard Fagan]. On the 7th of February, 1913, Mr. and Mrs. Fagan celebrated the golden anniversary of their wedding, which occurred on the 7th of February, 1863. Mrs. Fagan died on December 14, 1923, at the age of eighty.
Albert Lansing Fagan, the youngest son of James and Mary (Murray) Fagan, was educated in the public schools of Herkimer, from which he was graduated in 1902, and at Niagara University of Niagara Falls, New York. From there he went to Syracuse University of Syracuse, New York, to take a medical course and was graduated from that institution with the Doctor of Medicine degree in the class of 1908. The following two years the young physician spent as an interne in St. Joseph's Hospital of Yonkers, New York, and the New York Infant Asylum of New York city. In 1910 he returned to Herkimer to take up the private practice of medicine, and is now enjoying a large general practice in Herkimer and the surrounding community. Through his memberships in the American Medical Association and the New York State Medical Association, the Doctor keeps well informed on all the recent developments in his branch of science. He is also a member of the Herkimer County Medical Society.
In New York city, on the 17th of October, 1912, occurred the marriage of Dr. Fagan to Miss Henrietta Virginia MacNeil, a native of Cape Breton, Nova Scotia. Her father is Malcolm MacNeil, a Canadian of Scotch extraction, who is now living in Halifax. Dr. and Mrs. Fagan have become the parents of four children: Albert Kay, who was born January 22, 1915, and died on the 24th of April following; Clara Virginia, whose natal day was June 15, 1916; Malcolm MacNeil, born February 8, 1918; and Madaline Marie, whose birth occurred December 8, 1919.
Like his father, Dr. Fagan has always given his support to the democratic party and for the past twelve years he has been health officer for Herkimer. He is a Roman Catholic in his religious faith and a member of the Knights of Columbus. Dr. Fagan is likewise one of the charter members of the Herkimer Lodge of Elks, which he helped to found. His other club associations are with the Down and Out Club of Herkimer, the Little Falls Country Club of Little Falls, New York, and the University Club of Utica, New York. He is also a life member of the Herkimer County Historical Society.