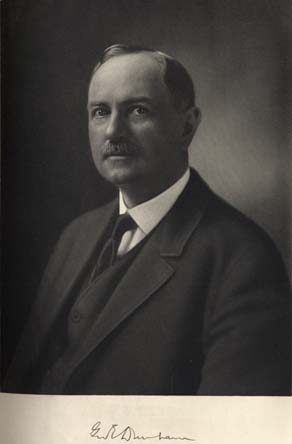 Portrait: George Earl Dunham
[View enlarged]
Utica sustained the loss of her first citizen when George Earl Dunham departed this life on the 29th of October, 1922, at the age of sixty-three years. As editor-in-chief of the Utica Daily Press from 1886 until his death, he made the paper a financial success and a power for good in the community and his influence was also felt as an educator, writer, public speaker and business man. His birth occurred in Clayville, Oneida county, New York, on the 5th of April, 1859, his parents being Moses Earl Dunham, D. D., Ph. D., and Harriet U. (Hughston) Dunham. The family comes of ancient New England lineage, having been established in Plymouth, Massachusetts, in 1630 by John Dunham, who emigrated to America from Lancashire, England. Dr. Moses E. Dunham, the father of George E. Dunham, was graduated from Hamilton College in the class of 1847 and taught school for several years. He then entered the Presbyterian ministry and from 1881 until 1884 he was principal of the Whitestown Seminary, his residence at that time being in the village of Whitesboro. His last pastorate was that of Plymouth church in Utica. He passed away on December 17, 1898, having long survived his wife, who died at the age of twenty-six. Dr. Dunham was a forceful writer, exhibiting refined taste and delicacy of finish, an eloquent orator, an analytical thinker and stood in the first rank of ministers in the community.
George Earl Dunham enjoyed excellent educational advantages in his youth. He obtained his early intellectual training in private schools and also attended Whitestown Seminary, from which he was graduated in 1875. Four years later he was graduated with the degree of Bachelor of Arts from Hamilton College, which institution conferred upon him the honorary degree of Doctor of Laws in 1921. Following his graduation in 1879 he went to Johnstown, where his father had been pastor for two years, and for two years he aided in the preparation of law books written by William Waite and Edwin Baylies. He also acted as reporter on a local paper and studied law under the preceptorship of Messrs. Waite and Baylies, being eventually admitted to the Oneida bar. Mr. Dunham later became junior member of the firm of Baylies & Dunham. This partnership was dissolved upon the death of Mr. Waite, but Mr. Dunham continued the office for literary work of a legal nature and for some general practice. His first regular newspaper work was in connection with the Johnstown edition of the Fulton County Intelligencer, after which he spent about two years as local editor of the Johnstown Republican. In 1881 Dr. Moses E. Dunham, his father, accepted the post of principal of the Whitestown Seminary, and for fifteen months the son served as vice principal under him, teaching Latin, English and public speaking.
It was in 1882 that Mr. Dunham secured a position as reporter on the staff of the Utica Daily Press, which had then been in existence for but three months. He advanced in rank, and finally became city editor, and in 1886 editor-in-chief and president of the Daily Press Publishing Company, with which he was thus connected to the time of his death. A contemporary biographer said:
"As an editor Mr. Dunham rendered valuable public service. He had high ideals of what a newspaper should be and a clear conception of economical excellence. He believed in making the Press an asset to the community; believed it should espouse and advocate all the good causes and promote all that promised improvement. He worked hard to attain his ideals in that respect, and both he and the Press were always at the service of any worthy movement."
In 1887 Mr. Dunham was appointed manager of the Utica State Hospital for the Insane, by Governor Hill, and in 1905 he was made chairman of the board. Under reappointment from several governors, he continued on the board for thirty-five years, and in recognition of his long services one of the buildings is now called Dunham Hall. He was one of the founders and a member of the first board of directors of the Utica Trust & Deposit Company, chairman of the Utica Electric Light Commission for three years, director of the Utica National Bank, director of the Utica Mutual Insurance Company, and president of the Partlow Corporation. Mr. Dunham was characterized as a man remarkable for his talent and many-sided interests. Public affairs, education, charity, social welfare, and later Americanization, all came within the scope of his activity, and he rendered valuable service to all these causes. In the discussion of public affairs his keen insight and sound judgment, together with his wide knowledge and pure motives, enabled him to write effectively and counsel wisely. Although he was either an officer or a worker in many organizations and prominent in many connections, it was as a newspaper man that he classed himself and wished to be known. He entered into the work of Americanization heart and soul as a patriotic duty, and accomplished much, leaving behind a complete textbook on Americanization, which will be a valuable aid to those succeeding him in the work. In February, 1920, the board of regents of the University of New York expressed its appreciation of his work in educating classes for citizenship, and in October of that year the postmaster general, on the recommendation of Postmaster Philleo, named the Devereux street postoffice Dunham Station, in recognition of his naturalization work.
Mr. Dunham became the first president of the Utica Chamber of Commerce, also occupied the presidency of the board of trustees of the Young Men's Christian Association and was a director of the Oneida County Young Men's Christian Association. His religious faith was indicated by his membership in the Johnstown Westminster Presbyterian church of Utica, of which he was elected a trustee in 1909. Fraternally he was identified with Oriental Lodge of Masons and with the Benevolent Protective Order of Elks, and he also belonged to Psi Upsilon, a Greek letter society of Hamilton College, Clinton, New York. His name was likewise on the membership rolls of the Fort Schuyler Club, the Arcanum Club, the Rotary Club, the Sadaquada and Yahnundasis Golf Clubs, the Republican Club of Utica, the Rome Club of Rome, and the University Club of New York.
When Mr. Dunham died, flags flew at half-mast on the City Hall, the County building and the Fort Schuyler Club. Many prominent citizens paid him merited tribute. Superintendent of Schools DeCamp said: "He found much time to serve others. His earthly life may be ended, but his influence lives." Judge Hazard accorded him the place of distinction as "Our first citizen", while Principal Babcock of the Utica Free Academy stated: "He devoted his time to worth-while causes." Elihu Root, chairman of the board of trustees of Hamilton College, said: "I am shocked and grieved by the news of George E. Dunham's death. He was one of the best men I ever knew; public-spirited, unselfish, full of kindly humor, wisdom and friendship."
On the 9th of January, 1884, Mr. Dunham was united in marriage to Helen L. Jones of Utica, who survives him. Their only child, a daughter, died in infancy, in 1888.