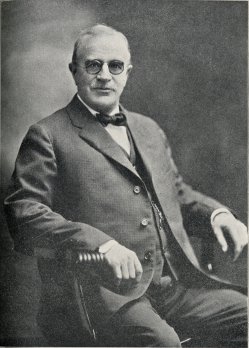 Portrait: Johnson C. Dewhurst
[View enlarged]
Known and honored for his sterling traits of character and for what he accomplished along business and civic lines, the death of Johnson C. Dewhurst on the 10th of July, 1923, was a distinct loss to Utica and his departure was deeply regretted by its citizens. His work was always of a constructive nature, contributing to public progress and development, as well as to individual prosperity, and he left many enduring monuments to his skill as a builder and contractor. He was born July 4, 1858, at Willowvale, in the town of New Hartford, New York, a son of John and Mary (Brothers) Dewhurst, well known and highly respected residents of that locality. The father was a machinist and located in New Hartford when a young man of twenty-five years. He became a prosperous agriculturist, owning and operating a productive farm near the village of Willowvale, and there spent the balance of his life.
Johnson C. Dewhurst received a common school education and afterward served an apprenticeship to the carpenter's trade, also becoming a millwright. Subsequently he embarked in business as a general contractor and in 1886 went to Nashville, Tennessee, where he spent two years, during which period he built the hoe works for the Lewis & Babcock Manufacturing Company, formerly of New Hartford. He organized the firm of J. C. Dewhurst & Sons and after 1901 confined his activities to the execution of contracts in steel and concrete work. He had few equals in that line and did much construction work for the Utica & Mohawk Valley Street Railway Company. He built a number of bridges for that corporation, one over the new channel in Deerfield, and three on the main line between Utica and Mohawk. He filled many contracts for the New York State Railways Corporation after its organization, also constructing many buildings in Utica, and at all times was actuated by the highest ideals of service, performing his work with painstaking thoroughness and marked efficiency, never allowing the smallest detail to be slighted. His success was due to the fact that the master formula of his business — honor, integrity and trustworthiness — ever remained unchanged, and the large commercial organization which he developed is now being continued by other members of the family.
In 1883 Mr. Dewhurst was married to Miss Christina Kuhn of New Hartford, and they became the parents of four children: Bertha, now the wife of Dr. Alonzo W. Tracy, a prominent dentist of Utica; Herbert, who married Mary Eisenhuth; De Forrest; and Jessie. The son, De Forrest Dewhurst, was born in Nashville, Tennessee, February 13, 1889, and when he was a year old the family home was established in Utica. He completed his training in the Utica Business Institute, and in 1913 became a member of the firm of J. C. Dewhurst & Sons. His cooperation was of much value in promoting the business and one of his outstanding achievements was the removal of the hump over the Erie canal crossing at Genesee street. He was much interested in public affairs and became a candidate for the office of supervisor of the sixteenth ward. He was killed in an automobile accident at Whitesboro, May 27, 1923, and a most promising career was thus brought to an abrupt termination.
A strong bond of affection existed between the father and son and Mr. Dewhurst's grief over the tragedy was beyond solace, undermining his health, so that he was unable to withstand the attack of disease, to which he succumbed six weeks later, when sixty-five years of age. He was nonpartisan in politics, supporting the candidate whom he considered best qualified for office, and in considering the welfare of his city he gave to it the same earnest and thoughtful consideration that he habitually bestowed upon the conduct of his business affairs. He represented the town of New Hartford on the board of supervisors in 1887-88 and served as fire commissioner in Deerfield just before the village was annexed by the city. The same breadth of view which characterized his outlook upon politics determined his attitude toward religious institutions and he contributed liberally to the support of every project for the advancement of his community along material and moral lines. He was one of the progressive members of the Utica Chamber of Commerce and fraternally was connected with the Masonic order, belonging to Amicable Lodge, No. 664, F. & A. M., which had charge of the funeral services. Mr. Dewhurst was also a member of the Royal Arcanum, and the Golden Rule constituted his guide throughout life. He was a man of strong conviction, never swerving from the course dictated by conscience and good judgment, and among his associates his high sense of honor won for him universal respect.