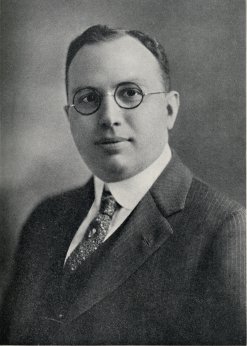 Portrait: Angelo De Rosa
[View enlarged]
The life record of Angelo De Rosa chronicles his steady rise from obscurity to prominence in the business circles of Utica as head of the firm of A. De Rosa & Company, well known heating engineers and contractors. The city of Utica numbers him among her worthy native sons, as well as representative and successful young business men. He was born on the 20th of February, 1889, and attended the grade and high schools in the acquirement of an education. As a youth of fifteen he obtained employment in the plumbing shop of James Cahill, in whose service he continued for a year or more, on the expiration of which period, in 1905, he became a steamfitter's apprentice with the Utica branch of the Edward P. Bates Heating Company. Ambition, expressed by conscientious toil, had brought this youthful Italian-American into the occupation congenial to him. While serving his apprenticeship he pursued a home study course in heating engineering and in addition attended business school in the evenings. Even with these outside drains upon his time and strength, Mr. De Rosa handled his apprentice work so well that he was made a journeyman steamfitter in four years instead of five. When his term of apprenticeship was finished he showed his good judgment by remaining in the employ of the Bates company, where his ability was recognized and where he was given every chance to prove his skill and gather sound experience. Although only twenty-one years of age, he was put in charge of many important jobs, frequently finding himself supervising fitters who had given him orders when he was an apprentice. With the passing years he gathered broader experience and became recognized as a man who knew his work and did it thoroughly. In 1914, without asking for an investment of capital, a well known heating company of Utica offered to make Mr. De Rosa a member of the firm and manager of its heating department. As this was the chance he had been waiting for, Mr. De Rosa accepted and became an officer of the William Danner Plumbing & Heating Company.
In February, 1916, with assets of two hundred and fifty dollars in cash and a similar amount in tools and material, he embarked in business on his own account, under the name of A. De Rosa & Company. The volume of business for the first year amounted to nine thousand dollars. By 1918 the business had grown to such an extent that it seemed wise to purchase the adjoining sheet metal establishment. When A. De Rosa & Company outgrew its quarters a new site was bought, and a larger shop and showroom were built. Adjoining property was purchased in 1922, while at present plans are being laid for a large building that will provide for growth over a longer period and will cost about eighty thousand dollars. Today the number of men on the company's pay roll averages thirty, and the annual volume of business runs well up into six figures. The following is an excerpt from a review of Mr. De Rosa's career which appeared in a publication entitled "Domestic Engineering", under date of March 8, 1924:
"For nearly ten years Mr. De Rosa averaged twelve hours of work per day. He solicits and supervises jobs during the day. At night he draws plans and prepares estimates; often he works well into the early morning… A. De Rosa & Company has always maintained a good showroom. The showroom, says Mr. De Rosa, is a profitable investment. For instance, an attractive heating display sometimes changes a plan to repair the old heating system into an ardent desire for a complete new modern heating plant… Mr. De Rosa believes in live salesmen, and he uses them in well planned efforts to get business. Recently his company won a national sales contest by selling the greatest number of oil burners within a sixty-day period. Sales promotion by means of special campaigns, letters, newspaper and program advertising, newspaper publicity, telephone calls, personal calls, showroom demonstrations, window displays, and other methods should be pushed constantly, he says, if a company is to get any real volume of business. This man, in his twenty years in the trade, has through his own efforts developed a large and profitable heating business. He says it happened mainly because he worked, made friends, and charged cost plus a profit."
At the thirty-fifth annual convention of the Heating & Piping Contractors' National Association in Atlantic City, in July, 1924, Mr. De Rosa delivered a speech relating to oil burners which was considered one of the best ever made on this subject, for it contained much valuable practical information based upon actual experience. It may here be noted that Mr. De Rosa has obtained the best results in this new and important business and has installed a larger number of oil burners than most heating contractors. Mr. De Rosa is a member and past vice president of the Master Plumbers & Fitters Association of Utica and vice president of the New York State Sheet Metal Contractors Association. He is president of the Vis Unita Club, whose members are Italian-American professional and business men of Utica; vice president of the Utica Independent Laundry; director in several local industrial plants; member of the board of directors of the Utica Chamber of Commerce; and member of the board of directors of the Utica Orchestral Society. Fraternally he is identified with the Benevolent Protective Order of Elks and the Loyal Order of Moose.
On the 29th of June, 1912, Mr. De Rosa was united in marriage to Miss Madeline Luft of Frankfort, New York. They have a daughter, Violet, who is ten years of age and resides with her parents at No. 519 Blandina street, in Utica.