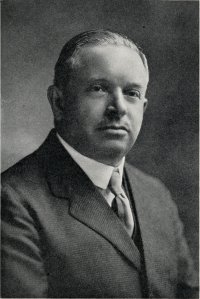 Portrait: Hon. George T. Davis
[View enlarged]
Since his admittance to the bar over thirty years ago the demands of public service upon his time have been so incessant that George T. Davis of Rome, Oneida county, New York, has found little time to devote to private practice, and has been compelled to subordinate his private interests to those of his community as a whole. After having filled with distinction many public offices of honor Mr. Davis is now special clerk of the surrogate's office at Rome, a position which he has held since September 1, 1921. He was born in Rome, on November 4, 1870, the son of Reuben and Mary Jane (Groves) Davis, the father being a native of England and the mother a native of New York state. Reuben Davis, the father, who always took an active interest in politics, was an iron worker and employed in the Merchants' Iron Mill, and was killed by a boiler explosion in 1880. His widow died in 1917. They were the parents of five children, two sons and three daughters, George T. Davis being the third in order of birth.
George T. Davis obtained his elementary education in the public schools of Rome and graduated from the Rome Free Academy, after which he read law with the Hon. George S. Klock, district attorney of Oneida county, and was admitted to the bar in November, 1892. Mr. Davis had scarcely begun to practice law when in 1893 he was elected justice of the peace, holding that office until 1894, when he was appointed assistant district attorney of Oneida county, holding the position until 1898. In the latter year Mr. Davis was elected special county judge and served two terms of three years each, and in 1904 was elected city judge of Rome, serving two terms of four years each, and was also the first city judge of Rome. Mr. Davis was then elected a member of the New York state assembly, where he served during the years 1916 to 1919, inclusive, after his legislative duties had ended, being appointed special clerk in the surrogate's office at Rome on September 1, 1921. During the World war Mr. Davis was a Four-Minute speaker and assisted the committee on questionnaire. In addition to the legal work of Judge Davis he has also been interested in the welfare and promotion of work among the foreign-born. He has taught classes in Americanization and has prepared those seeking citizenship papers for examination before the court, and has been interested in all projects for the good and welfare of the city.
On July 20, 1893, in Rome, New York, Mr. Davis was married to Miss Mary Williams, daughter of Mr. and Mrs. Joseph Williams, an old family of the Mohawk valley. Mrs. Davis is a member of the Eastern Star. Mr. Davis is a republican in politics, a member of the Oneida County Bar Association, a member of the executive committee of Rome Council, Boy Scouts, and a member of the Kiwanis Club, the Lake Delta Masonic Country Club and the Rome Archery Club. Fraternally he is affiliated with the Royal Arcanum, Rome Lodge, No. 266, Independent Order of Odd Fellows, and the Masonic order, in which he is past master of Rome Lodge, No. 223, A. F. & A. M., and the first worshipful master of Hathaway Lodge, No. 869, A. F. & A. M.; and belongs to Rome Commandery, No. 45; Fort Stanwix Chapter, Royal Arch Masons; Utica Consistory; and Zeba Grotto, No. 4. He is also a past district deputy grand master of the Oneida Masonic District. In religion Mr. Davis is member of the Protestant Episcopal church and a vestryman of Zion church in Rome of that denomination.