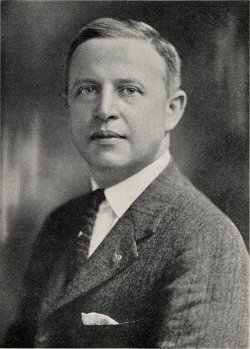 Portrait: George Wood Andrews
[View enlarged]
George Wood Andrews, president of the Andrews Iron & Steel Corporation of Utica, which he organized in January, 1922, has through the steps of an orderly progression reached a prominent position in the industrial circles of the city, yet by no means confines his efforts solely to those lines which bring financial gain. On the contrary, he recognizes his duties and obligations to his fellowmen in many ways and cooperates in those organized efforts which are seeking to benefit the community at large. He was born in Elmira, Chemung county, New York, on the 20th of March, 1883, a son of Frank M. and Kate S. Andrews.
In the acquirement of an education George Wood Andrews attended the grammar and high schools at Horseheads, in his native county, after which he secured a position as telegraph operator with the Northern Central Railroad Company at Horseheads, being thus employed from 1899 until 1901. Actuated by a laudable ambition, he pursued home study courses in draftsmanship and engineering, for which he manifested a marked tendency even as a child, while as a pupil in school he had proved particularly proficient in mathematics. On leaving railroad service he entered the employ of the Horseheads Bridge Company as draftsman, continuing with that concern from 1901 until 1904, while during the three succeeding years he was connected with the American Bridge Company as structural draftsman and engineer. From 1907 until 1910 Mr. Andrews was employed as structural engineer by the McClintic-Marshall Construction Company, of Pottstown, Pennsylvania, and then spent a similar length of time as crane engineer with the Shepard Electric Crane & Hoist Company of Montour Falls, New York. He represented the Utica Steam Engine & Boiler Works of Utica as chief engineer from 1913 until 1916 and in the latter year became master mechanic with the Walcott & Campbell Spinning Company and the Utica Spinning Company in Utica and New York Mills, thus serving for four years. On the expiration of that period, in 1920, he became president of the Economic Iron Works of Utica, of which he remained at the head for two years. It was in January, 1922, that he organized the Andrews Iron & Steel Corporation for the manufacture of ornamental iron, structural steel, boilers, castings, etc., in Utica, in which connection he has already developed an industrial enterprise of extensive and profitable proportions. The success which he now enjoys is all the more creditable by reason of the fact that it is attributable entirely to his own well-directed efforts and energy, for he is a self-made as well as self-educated man who has worked his way upward unaided.
On the 28th of April, 1906, Mr. Andrews was united in marriage to Miss Naelie Weaver, daughter of Dwight E. Weaver of Montour Falls, New York. To Mr. and Mrs. Andrews have been born five children: Mary Louise, whose birth occurred on the 16th of April, 1907; George Robert, whose natal day was July 7, 1910, and who died when four years old; Margaret Helen, born on January 2, 1913; Hilda Jean, born on August 11, 1916; and Richard Weaver, born on July 29, 1921. The family resides in Whitesboro, a suburb of Utica.
Mr. Andrews is a republican in politics but is not an active party worker and has always declined to become a candidate for office, preferring to concentrate his attention upon his business affairs. Community interests, however, elicit his active support and he is greatly concerned in the civic welfare of Whitesboro, where he makes his home and where he is rendering excellent service as president of the board of education. His religious faith is indicated by his membership in the First Presbyterian church of Whitesboro, while fraternally he is identified with the Benevolent Protective Order of Elks and the Masons, being past master of the blue lodge in the latter organization. Mr. Andrews is past president of the Mohawk Valley Engineering Club, a director of the Rotary Club and chairman of the Utica safety and fire prevention committee. He is keenly interested in the conservation of fish and game, holds the position of secretary and treasurer of the Whitestown Sportsmen's Club and is a breeder of fine pedigreed English setters as a hobby rather than for profit. His kennel is one of which he may well be proud. Mr. Andrews has fought life's battles unassisted and none can grudge him his prosperity, for it has been worthily won and well used. His activities and interests are evenly balanced and he is loyal to all those interests which make for honorable manhood and progressive citizenship.