THE SCHENECTADY DIGITAL HISTORY ARCHIVE
a service of the Schenectady County Public Library

Schenectady Locomotive Works - 1893 Advertisement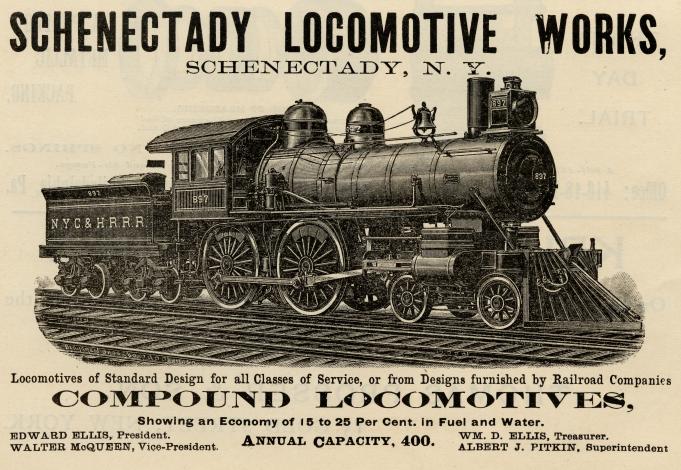 This is an advertisement for the Schenectady Locomotive Works from an 1893 issue of The American Engineer and Railroad Journal. The locomotive pictured is labeled N.Y.C. & H.R.R.R. 897. The text of the ad is as follows:
Locomotives of Standard Design for All Classes of Service, or from Designs furnished by Railroad Companies
COMPOUND LOCOMOTIVES,
Showing An Economy of 15 to 25 Per Cent. in Fuel and Water.
Annual Capacity, 400.
Edward Ellis, President.
Walter McQueen, Vice-President. William D. Ellis, Treasurer.
Albert J. Pitkin, Superintendent.
Updated 2/27/01




This page is Bobby approved and follows the guidelines of the Web Accessibility Initiative for use by the disabled
http://www.schenectadyhistory.org/railroads/slw/1893ad.html updated March 31, 2015
Copyright 2015 Schenectady Digital History Archive — a service of the Schenectady County Public Library