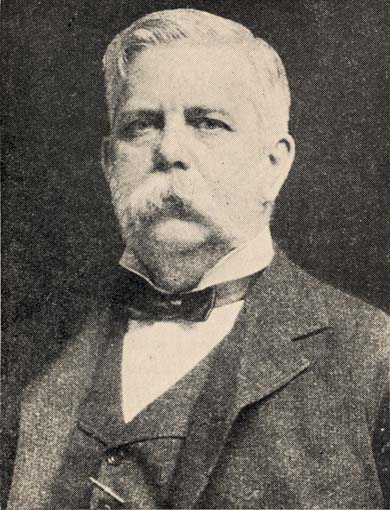 Portrait: George Westinghouse
[View 4x enlarged]
George Westinghouse, inventor of the air brake, was born at Central Bridge, New York, on October 6, 1846. His father was a manufacturer of agricultural implements in Schenectady and it was in this shop that the boy spent much of his time.
At the age of fifteen he ran away to enlist in the Civil War but was immediately brought home by his parents. Two years later, however, he was permitted to enter the Union army in which he served until 1864 when he joined the navy acting as an assistant engineer. In the fall of 1865 he entered Union College but three months later he returned to the shop. This was the end of his college course.
In the same year young Westinghouse was awarded his first patent - for a rotary steam engine - and in 1869, when only twenty-two years of age, he secured the first air brake patent. This invention, which made high-speed railroad travel safe, has since been developed to a remarkable degree of efficiency and has come into international use. Westinghouse, seeing the advisability of making all air brake apparatus interchangeable, was one of the first to apply in machine production the modern principle of standardization.
Railroad signal systems, the safe transmission of natural gas, electric power transmission and control - Westinghouse was interested in all of these. His second major contribution to civilization, however, was the introduction of alternating current for the transmission of electric power. In 1886 when the new high-voltage alternating current single-phase system was ready for market it was bitterly attacked by many experienced electrical men, but now some fifty years later over ninety percent of all electricity produced is transmitted as alternating current.
Westinghouse enterprises grew all over the world until the associated companies employed over fifty thousand people. In the panic of 1907 the electric and machine companies were thrown into receivership and Mr. Westinghouse lost control and soon relinquished his connection with the companies he had founded. He continued his experiments but his health failed and he died in New York City on March 12, 1914.
In appearance George Westinghouse was a large, well-proportioned man - strong-minded and determined, yet always just and friendly in manner. His great imagination and technical ability obtained for him some four hundred patents in the course of forty-eight years.