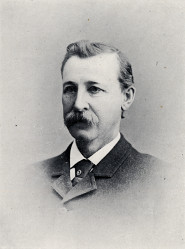 Portrait: James T. Wyatt
[View enlarged]
James T. Wyatt, ex-Supervisor of Glenville and a veteran of the Civil War, was born in Halifax, N. S., October 22, 1834, son of John F. and Charlotte (Stewart) Wyatt. His father was a native of New Jersey, and his mother of Nova Scotia.
John Wyatt, his grandfather, who was born in Charleston, S. C., served in the Revolutionary War, and for some years was a planter in his native State. Coming North, John Wyatt resided in New York State for a time, but his last days were spent in Nova Scotia. The family is of English origin. Probably its first representative in this country was Sir Francis Wyatt, one of the early Colonial governors of Virginia, the first term of his wise and pacific administration beginning in October, 1621.
John F. Wyatt, the father of the subject of this sketch, was a carpenter, and followed his trade during his active years. Moving from Nova Scotia to New York State, he resided in Albany until going to Cattaraugus County; and he died in Jamestown, Chautauqua County, at the age of eighty-three years. In politics he was a Republican. His wife, Charlotte, was the mother of seven children, four of whom are living, namely: John A. and James T., both residents of Glenville; Eleanor, wife of M. G. Martyn, of Jamestown; and William H. Wyatt, of Akron, Ohio. The others were: Eliza C., Harriet, and Adelaide. Mrs. Charlotte S. Wyatt died in Akron, Ohio, at the age of seventy-six years. In religious faith the parents were Episcopalians.
James T. Wyatt was reared in Albany and educated in the schools of that city. When a young man he entered the grocery business as a clerk, and remained in that employment for four years. In October, 1861, he enlisted as a private in an independent organization known as the Havelock Battery, which was raised in Albany, and became attached to the Army of the Potomac. He participated in some of the most stubbornly contested engagements of the Civil War, including the battle of Chancellorsville, where he was wounded, and rose to the rank of First Lieutenant, being discharged as such, January 24, 1865. The State of New York gave him the rank of Brevet Major. Returning to Albany, he in 1866 became travelling salesman for Burton & Co., dealers in mouldings, picture frames, and similar wares, and remained with that concern for eight years. In 1877 he bought his present farm in Glenville, containing one hundred and forty-two acres of desirable land situated in the beautiful and fertile Mohawk valley, one of the finest agricultural regions in the State. He displays unusual practical ability and good judgment in managing his property, which yields a good income, the energy of its owner being visible on every hand.
In June, 1867, Mr. Wyatt was united in marriage with Anna M. Rector, who was born in Glenville, May 25, 1835, daughter of William Rector and a representative of an old family of this town.
Politically, Mr. Wyatt is a Republican. He served with ability as Supervisor during the years 1882, 1883, 1884, and 1886. He is a comrade of Horsfall Post, No. 90, G. A. R., of Schenectady. Mr. and Mrs. Wyatt have no children. They attend the Episcopal church.