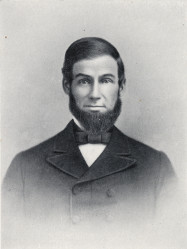 Portrait: Alonzo Wakeman
[View enlarged]
Alonzo Wakeman, for many years one of the leading farmers of Lawyersville, Schoharie County, was born October 23, 1810, in this town, and here spent his entire life of nearly seventy-eight years, his death occurring on August 31, 1888. He was of patriotic Revolutionary stock, his paternal grandfather, Gershom Wakeman, a native of Fairfield, Conn., having served as an officer in the war for American independence.
Gershom Wakeman was a farmer by occupation. He was among the very first to enlist in the Colonial forces, and was killed in one of the early battles of the war. His wife, Elizabeth Downs, was born in Fairfield County, Connecticut, daughter of David Downs and the descendant of one of the earliest settled families of that county. She died not very long after her husband's death, leaving seven children: namely, Abigail, Abel, Gershom, Dolly, Amelia, Isaac, and Seth B., the latter of whom was the father of Alonzo Wakeman.
Seth B. Wakeman was brought up on a farm. In early manhood he learned the carpenter's trade, which he subsequently followed many years in Lawyersville, where he was one of the first settlers. He erected the house now occupied by his son Alonzo's widow, the residence of Stanton Courter, of Cobleskill, and several business houses of this locality. He bought a farm of two hundred acres near the village and also other land in town; and for some years prior to his death, at the age of eighty-two years, was successfully engaged in general farming. He likewise carried on an extensive business as a manufacturer of lumber, being the owner of a saw-mill. His first wife, Clara Nichols, a native of Fairfield County, Connecticut, died in early womanhood, leaving him five children, namely: Horace; Alonzo, the special subject of this sketch; Horatio; Maria; and Charles. In religion, both parents were of the Universalist faith. After the death of his first wife Seth B. Wakeman married Sarah Wheeler, also of Fairfield County, Connecticut.
Alonzo Wakeman in 1878 bought the valuable farm of two hundred acres, on which his daughter Emma now resides, and until his death, as above mentioned, was recognized in the community as one of its foremost agriculturists. Strictly honest and upright, he was influential in the neighborhood, and, as a Notary Public, for many years transacted a good deal of business. In politics, he was an ardent supporter of the principles of the Republican party, but persistently refused to accept all offices, even that of president of the National Bank, of which he was one of the founders and for many years a director.
Mr. Alonzo Wakeman's first wife was Miss Catharine Stall, daughter of Mr. and Mrs. Peter Stall, of Sharon, Schoharie County, N. Y.; she lived ten months after their marriage, her death occurring in 1834 at the age of nineteen years and eleven months. In June, 1838, Mr. Wakeman married Mary O'Dell, who was born September 26, 1815, in Redding, Conn., daughter of Dr. Joseph O'Dell. Mrs. Wakeman is of French ancestry, her great-grandfather O'Dell, one of the first settlers of Norwalk, Conn., having emigrated to that town from France in Colonial days. Nathan O' Dell, her grandfather, was a prosperous farmer and a lifelong resident of Norwalk, Conn. His wife, Mary Burritt, bore him fourteen children, all of whom grew to maturity and married. Joseph O'Dell, having received his early education in the common schools, pursued the study of medicine, at first with one of the local physicians, Dr. Jesse Shepard, and afterward in New York City. On graduating, he located first as a practitioner in Dover, Conn., whence he removed to Redding, Conn., where he continued actively engaged in the practice of his profession. At the age of thirty-one years he died in Charleston, S. C., while there for the benefit of his health. His wife, Lucy Wakeman, was born in Fairfield, Conn., a daughter of Gershom Wakeman, second, who was an uncle of Alonzo Wakeman. Gershom Wakeman, second, married Sibbell Bradley, of Fairfield, Conn., and Lucy was their only daughter. They were very prominent members of the Congregational church.
Mr. Alonzo Wakeman is survived by his wife and four children; namely, Emma, Clara A., Ella, and Sarah W. Emma J. married Solomon Larkin, a farmer, who died in 1897, leaving her with one child, Charles W. Larkin; Clara A. is the wife of Romeyn Brown, a hardware merchant of Oneonta, and the mother of three children — Wakeman, Floyd, and an infant (deceased); Ella is the wife of George Story, a carpenter; and Sarah W. is the wife of Daniel J. Gannon, who is her third husband. Mrs. Wakeman and all her family except one are valued members of the Lutheran church.