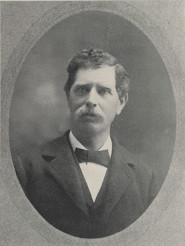 Portrait: John Bradt
[View enlarged]
John Bradt, a retired farmer of Rotterdam, was born in this town, October 6, 1839, son of Aaron I. and Eliza C. (Vedder) Bradt. The parents were natives of Schenectady; and the father was a prosperous farmer of Rotterdam, where he spent the greater part of his life. He died at the age of fifty-eight years, and his wife lived to be ninety-one. They were the parents of five children, two of whom are living, namely: John, the subject of this sketch; and Aaron B., who resides in Schenectady. The others were: Francis, Hester, and Helen.
John Bradt acquired his education in the common schools of his native town. After the completion of his studies he assisted his father in carrying on the home farm, thereby obtaining a good knowledge of agriculture; and in early manhood he and his brothers, Aaron B. and Francis, purchased their sister's interest in the old homestead farm, which contained about one hundred and sixty acres, located along the banks of the Mohawk River. This they carried on successfully together till Aaron sold his interest. After that the farm was managed by John and Francis until 1889. In that year Mr. John Bradt retired, and built a handsome residence in the village, which he has since occupied, the industry displayed during his long period of activity having placed him in easy circumstances. It is interesting here to note that the ancestral farm has been handed down from his grandfather to the fourth generation, being now owned by Mr. Bradt's nephew, Aaron J. Bradt, son of Francis above named.
On December 28, 1871, Mr. Bradt was united in marriage with Eleanor Dorn, who was born in Princetown, August 3, 1847, daughter of Alexander and Harriet Dorn. Her father, who was a stirring farmer of Duanesburg, died at the age of sixty-one years. He was an active member of the Dutch Reformed church and for more than forty years an Elder. Mrs. Dorn is still living, and resides in Duanesburg.
In politics Mr. Bradt is a Republican, but takes no part in public affairs beyond casting his vote. He has been a Deacon of the Reformed church for the past eight years, and Mrs. Bradt is a member of the church.