THE SCHENECTADY DIGITAL HISTORY ARCHIVE
a service of the Schenectady County Public Library

Schenectady, New York Lyceum and Academy
Advertisement in the 1841-2 Schenectady City Directory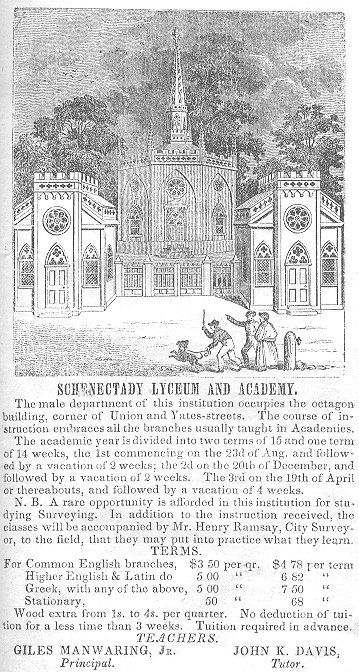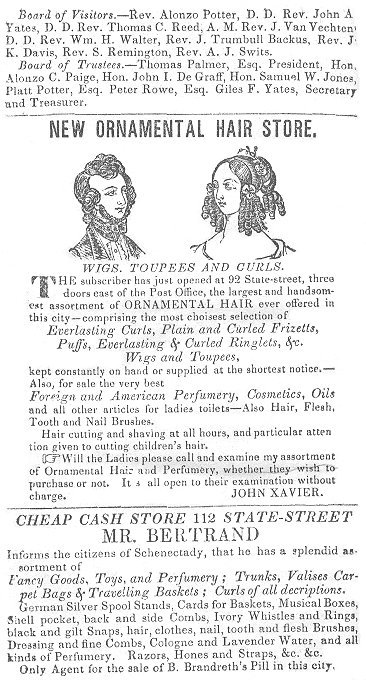 (text of the ad)
The male department of this institution occupies the octagon building, corner of Union and Yates-streets. The course of instruction embraces all the branches usually taught in Academies.
The academic year is divided into two terms of 15 and one term of 14 weeks, the 1st commencing on the 23d of Aug. and followed by a vacation of 2 weeks; the 2d on the 20th of December, and followed by a vacation of 2 weeks. The 3d on the 19th of April or thereabouts, and followed by a vacation of 4 weeks.
N.B. A rare opportunity is afforded in this institution for studying surveying. In addition to the instruction received, the classes will be accompanied by Mr. Henry Ramsay, City Surveyor, to the field, that they may put into practice what they learn.
TERMS

For Common English branches       $3 50 per qr.   $4 78 per term
    Higher English & Latin do      5 00   "        6 82   "
    Greek, with any of the above,  5 00   "        7 50   "
    Stationary,                      50   "          68   "

Wood extra from 1s. to 4s. per quarter. No deduction of tuition for a less time than 3 weeks. Tuition required in advance.
TEACHERS
GILES MANWARING Jr., Principal
JOHN K. DAVIS, Tutor
Board of Visitors - Rev. Alonzo Potter, D.D., Rev. John A. Yates, D.D., Rev. Thomas C. Reed, A.M., Rev. J. Van Vechten, D.D., Rev. William H. Walter, Rev. J. Trumbull Backus, Rev. J. K. Davis, Rev. S. Remington, Rev. A. J. Swits.
Board of Trustees - Thomas Palmer, Esq. President, Hon. Alonzo C. Paige, Hon. John I. De Graff, Hon. Samuel W. Jones, Platt Potter, Esq., Peter Rowe, Esq., Giles F. Yates, Secretary and Treasurer.
Updated 11/10/98




This page is Bobby approved and follows the guidelines of the Web Accessibility Initiative for use by the disabled
http://www.schenectadyhistory.org/citydirectories/1841/lyceum.html updated March 31, 2015
Copyright 2015 Schenectady Digital History Archive — a service of the Schenectady County Public Library